Hirving Lozano
Lozano showing superstar potential for high-flying PSV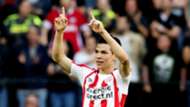 PSV knew they were getting something special when they lured Hirving Lozano to Eindhoven, but no one expected such an electrifying start from the 22-year-old.
Even those who had witnessed Mexico's most promising attacker blossom in his homeland with Pachuca were shocked.
"He has been extraordinary, even above the expectations we had," his former side's sporting director, Marco Garces, told Marca this month. "We always knew that Hirving was a great player, he had everything to prove it in Europe, but the scoring ability that he has shown is above what he showed here. It fills us with pride."
After knocking back Manchester City to secure immediate first-team football in his first voyage to Europe, the winger quickly emerged as the Eredivisie's star player and has been nominated for the CONCACAF Player of the Year award after finishing runner-up last time.
It took just eight league matches for him to reach a tally of nine goals and three assists and Dutch pundits are already caught up in the excitement of speculating the price a superpower will have to pay to get him after just one season. TV show Studio Voetbal started the estimates at €70 million.
Man City are said to still be interested, and Arsenal have reportedly highlighted him as a potential successor to Alexis Sanchez.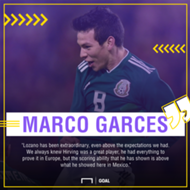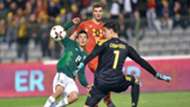 Just a few months into his six-year contract, however, Lozano has settled with his family in Netherlands and is just getting started with a team that has taken a surprise hold of first place in the Dutch top flight.
Phillip Cocu's side have collected 33 points from 12 matches, scoring an incredible 38 goals, and Lozano has been a big inspiration.
His pace, skill and directness make him a devastating threat, but his neat passes make him useful in building quick attacks and opening chances for others.
"Making and creating something, that is of course his greatest quality," Cocu said in October. "He is still a young player and busy learning all facets of European football.
"It's great to work with him and he has so much quality that he can make a difference."
As Lozano shines amid a flourishing attack, PSV have emerged as a favourite for the Eredivisie title.
After last season's third-place finish, some big summer departures and an early elimination from Europe, a tough campaign was expected for Cocu's team.
Instead, they are on form reminiscent of the Memphis Depay and Georginio Wijnadum-led side that lifted the crown in 2014-15 and again have an attack that is proving difficult to contain for Dutch defences.
They are eight points clear of main rivals Ajax and 14 ahead of reigning champions Feyenoord, who have won just one of their last nine games in all competitions.
A 2-0 loss at Heerenveen in week four has been the only negative for them, but they recovered with a 1-0 win over Feyenoord. A 7-1 trouncing of Utrecht followed and they scored at least three in each of the next five before scraping to last week's victory at fourth-placed PEC Zwolle.
Not focused on dominating possession, instead, quick, fluid attacks are central to PSV and they have the right attackers to make it work.
Joint-top of the Eredivisie goal chart with Lozano, Jurgen Locadia is again a vital player after falling in and out of the team in recent years and a lengthy injury spell last term. The PSV academy graduate is dangerous as he lingers in the box, and although he is capable of fabulous goals, his tendency to shoot from distance is frustratingly wasteful.
On his third loan spell at the Philips Stadion, Marco van Ginkel has been vital for their attack. The midfielder steams towards opponents' boxes and picks out team-mates while continuing to chip in with goals – already netting seven this term.
Uruguayan attacker Gaston Pereiro and Steven Bergwijn are key in supplying chances to Locadia and Lozano, while Luuk de Jong has become useful again despite his ongoing struggles in front of goal as he helps link the attack together.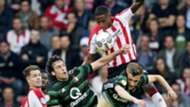 Their record of 13 goals conceded is a good one at this stage, and Cocu has settled on his ideal back four, while Jorrit Hendrix is impressing at the base of the midfield, but teams like Heerenveen, Feyenoord and PEC have been able to put them under pressure.
PSV can be exploited, but Feyenoord showed clear defensive weaknesses last term and stayed top of the table all season.
Issues await Cocu's side, however, as a few injuries will force him to call upon talented but untested youngsters that may struggle to click with their fast attacks.
A few slip ups will prove costly as Ajax are showing signs of stabilising after some early wobbles under Marcel Keizer. Like PSV, they are already out of Europe and have a strong enough squad to build on last week's 8-0 win over NAC Breda. Last year's Eredivisie and Europa League runners-up need to get either Kasper Dolberg or Klaas-Jan Huntelaar firing regularly up front and improve their pressing, but they will likely pull closer to the frontrunners soon.
PSV still have a lot to prove in their bid for the Eredivisie title as they await Ajax to push them further, but with Lozano, Locadia and Co. impressing, they are showing real credentials a third of the way into the campaign.