Manchester United
Lindelof: I can score nice goals!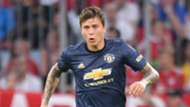 Victor Lindelof says he can score as well as defend!
The Manchester United defender has enjoyed a regular run in the team at the start of 2018-19, playing eight of the club's Premier League games, only missing the 2-1 win over Newcastle.
He has scored just three senior career goals, all for Benfica, and has yet to find the net in 39 appearances for United. He has, however, been finding the net with regularity in training.
"Most people don't know that but, yeah, I can score nice goals. I can," he told United's official website.
Lindelof has regularly been paired with Chris Smalling in the heart of United's defence, with the Swede trusted to bring the ball out from the back and kick-start attacks.
"I like to have the ball and start from the back, and I've always liked to have the ball at my feet, ever since I was young," he added.
"I managed to develop that more in Portugal as well and got even better. I think that's one of my best things."
And he credits his upbringing as a midfielder as the reason he is so comfortable with the ball.

"I just started as a no.10 and also played as a winger in the national team actually," he added. "Then no.8, no.6 and then I became a right-back and now central defender. I played all those positions.

"When I was younger I was a no.10 in a free role and I could move around a little bit. I like central midfield."