Transfers
Lacazette confirms he will leave Lyon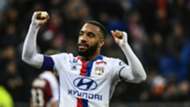 Alexandre Lacazette has said he is leaving Lyon, with the striker confirming he has spoken to Atletico Madrid.
The French attacker confirmed he will leave the Ligue 1 side at the end of the season, having played for Lyon since making his senior debut in 2010.
Lacazette indicated that he feels that the time is right to move and prove himself at a higher level.
Kaka: Zidane's success is a big surprise
"I think that's the right time. I want to discover something else, and to play at a different level," Lacazette told L'Equipe .
"I know very well that on a European scale I am not yet well recognised. I want to see if I can answer the questions that people are asking, and to make further progress."
Lacazette also revealed that he has spoken to Atletico Madrid, praising their players and facilities, but admitted that he has not agreed to sign for them just yet. He also discussed the possibility of linking up with France team-mate Antoine Griezmann.
"Atletico is a club that is in the last rounds of the Champions League for several years," the 25-year-old said. "It is a great team, in a new stadium, and it is also a club that helps their players progress.
"And there is Antoine Griezmann. If Atletico is the club I chose, I have not told you, maybe I'll give you another answer in a few months!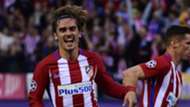 "It would be a beautiful story if we [Griezmann and Lacazette] could go on together It started in the French Under-18 team. He arrived timidly.
"There are always small groups, and he was a little alone, but we got closer, because we played together in attack and we got along well in life. Then, both of us, we carried almost all the rest of the group.
"Initially, Antoine was as shy as I was. Afterwards, he climbed the ladder, he became an international star, and he took more confidence, he opened up."
No conspiracies: Real Madrid deserve La Liga
Having spent the last 14 years at Lyon, rising up through the youth teams before playing for their senior side, the former Ligue 1 Player of the Year is proud of what he as achieved at the club, and says that he is leaving on good terms.
"The president told me what he told you at a press conference," Lacazette continued. 
"It is I who chooses my future destination. It is a personal choice for my carefully considered career, which I have done for a long time.
"No one wanted to harm anyone. The common goal was to be able to leave on good terms. It is important that the club that trusted me and who came to pick me up at the age of 10 can recover money after all that we have been able to do together."