Jürgen Klopp
Klopp casts doubt over long-term stay in Liverpool hot-seat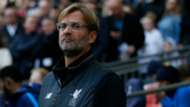 Jurgen Klopp has conceded that he is unlikely to remain at Liverpool long-term, with his CV suggesting that he will get a seven-year itch.
The German arrived at Anfield in October 2015 on the back of Brendan Rodgers' dismissal.
He was acquired with the intention of bringing the good times back to Merseyside, with Liverpool having failed to lift a trophy since 2012.
That barren run has continued throughout Klopp's reign and he admits that the pressure on him to deliver could see him walk away if silverware is secured.
He told reporters ahead of a Premier League clash with Arsenal on Friday, with his opposite number Arsene Wenger having spent 21 years at the Gunners helm: "Even if you win something, which everyone here is desperately waiting for, it could be the moment I say 'OK, but now we have to leave it'.
"Stay here 20 years? I don't know. So far after seven years [at a club] I've felt maybe I should move on.
"I don't feel I am close to that moment and everything is fine. But it would be quite difficult to become the record coach at Liverpool.
"If anyone thinks they can make a similar career like [Sir] Alex Ferguson or Arsene Wenger in clubs, I'm not sure it would be possible."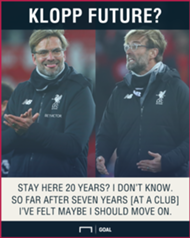 Wenger has remained in his role at Arsenal despite facing criticism for an apparent lack of progress, with only three FA Cups secured since last lifting the Premier League title in 2003-04.
Klopp, though, remains a big fan of the Frenchman and hopes he will get to experience many more battles with an iconic figure before either of them leaves their respective post.
He added: "I think Arsene gets a lot of criticism. I've seen it since I've been in England and for sure, it's not right.
"But he's still there and he's doing a brilliant job again. Top five, six, fighting for fourth and being involved in different cup competitions and things like that.
"He's obviously still very ambitious and as long as you feel that, you can stay.
"If you are the only part who likes it, that's wrong. It needs to be a perfect fit. We feel that here at Liverpool in this moment and I'm sure for the next few years, but you cannot force anything to happen. It needs to feel right for everybody."
Liverpool head to Emirates Stadium perched one place and a solitary point above Arsenal, with a positive result of any kind in north London set to be enough to keep them in the Champions League places at Christmas.