Liverpool
Klopp and Bayern to resume old hostilities as Liverpool get plum Champions League draw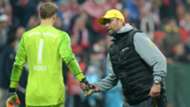 Jurgen Klopp will have smiled when Liverpool's Champions League last 16 draw was confirmed, that's for sure.
The Reds boss will be given the chance to renew old hostilities in the New Year, with his side heading for a mouth-watering clash with Bayern Munich in February.
Not the easiest of draws, of course. Klopp would surely have preferred another trip to Portugal to face FC Porto, but all things considered Liverpool can be confident about their trip to Germany. The Bayern of 2018-19 are not the Bayern that Klopp will remember from his time in the Bundesliga.
Niko Kovac's side topped their group courtesy of a madcap 3-3 draw with Ajax in Amsterdam on Matchday Six, but the German champions have looked anything but convincing this season. They sit third in the Bundesliga at present, nine points behind leaders Borussia Dortmund and having regularly had to deny speculation surrounding their manager's position. Kovac, a former Bayern player, only arrived in the summer but it would be a surprise if his future in Bavaria was a long-term one.
Klopp will recognise the quality of Bayern's players, of course. Robert Lewandowski and Mats Hummels, for starters, were key figures in his Dortmund team, which won successive Bundesliga titles in 2011 and 2012 before reaching the Champions League final at Wembley a year later.
The team that beat them that night, of course, were Bayern, and several of that side remain at the Allianz Arena. The likes of Manuel Neuer, David Alaba, Jerome Boateng, Thomas Muller, Arjen Robben and Franck Ribery are still there, though none are in their prime and all have been subjected to criticism at various points in recent months. Bayern's recruitment, generally, has been average at best since the departure of Pep Guardiola in 2016.
They still boast quality. Klopp is a huge admirer of midfielder Thiago Alcantara, while Joshua Kimmich is emerging into a top-class, versatile performer. James Rodriguez's brilliance cannot be ignored, while Lewandowski remains one of Europe's premier goalscorers. Leon Goretzka, meanwhile, was looked at by Klopp but chose Bayern when leaving Schalke on a free transfer last summer.
Liverpool have not played a competitive game at the Allianz, though they produced an eye-catching win there in the Audi Cup in 2017. Klopp will hope his side's intensity and energy can prove the difference, as it often did during his time with Dortmund.
One of his more memorable wins as a manager came against Bayern, a 5-2 evisceration in the German Cup final of 2012. Perhaps his lowest point came against the Bavarians too, with Robben's late goal breaking their hearts in that 2013 Champions League final, on a night when Dortmund had looked more than capable of winning.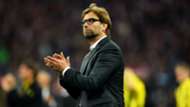 That proved to be his peak at Signal Iduna Park. Bayern had taken Mario Gotze from them prior to that final, and would go on to take both Lewandowski and Hummels.
"Somebody came and thought 'they're too good, let's try to avoid the next step!'" Klopp told Goal in an exclusive interview back in July.
Previously, he has compared Bayern to "the Chinese in the business world," noting that they "look at what others are doing and copy it – just with more money." He is guaranteed a hostile reception at the second leg, which will be played in Germany on March 13.
Liverpool, though, will fancy their chances of bloodying the nose of another European giant. The absence of Virgil van Dijk, suspended for the first leg at Anfield, will hurt them but Klopp's side have the firepower and defensive structure to make an impact on the Champions League as they did last season. They should have both Joe Gomez and Joel Matip available to cover Van Dijk.
They'll need to find a solution to their problems on the road – they lost all three of their away games in the group, scoring just once – but nobody needs reminding of the way in which Anfield can inspire the Reds on a European night. Klopp, once more, will seek to harness the power of his supporters. Bayern can expect a red-hot atmosphere when they visit.
"Difficult!" said Klopp, reflecting on the news today. "Good draw. It was clear it would be difficult [and] they are obviously a top side.
"For me it's nice, going to Germany. But it's just the draw. So we have now time to prepare the game, a lot of time obviously, and hopefully we have all our players available then. It will be a tough one, an interesting one, and I am looking forward to it."
He's not the only one. A tough one, yes, but Liverpool will surely head in as favourites. Klopp's side are daring to dream again.