Robbie Keane
WATCH: Victory coy on Robbie Keane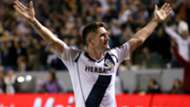 Melbourne Victory coach Kevin Muscat has kept his cards close to his chest but hinted at a potential move for Robbie Keane.
Already Western Sydney Wanderers and Brisbane Roar have indicated interest in signing the former LA Galaxy captain in the January transfer window, and Muscat was coy when asked about Keane on Friday.
WATCH: 'Robbie Keane's a very good friend of mine'
Victory were linked with now-retired Steven Gerrard earlier in the week, which Muscat again insisted was never a genuine option, but he left the door open for Keane.
"Robbie Keane's a very good friend of mine and I know he's open to exploring another adventure. Whether that's going to be here or not, time will tell," Victory's boss said.
Keane ended a six-year stint with Galaxy earlier this month after 92 goals in 146 MLS matches.
The 36-year-old is reportedly being tracked by a number of MLS teams, while Brisbane managing director Mark Kingsman and Wanderers coach Tony Popovic have expressed interest in the veteran striker.
Roar coach John Aloisi subsequently distanced his club from Keane without definitively ruling him out.
Victory could have two avenues to sign Keane.
They could either add him to their squad on a 14-game guest contract or - pending marquee striker Besart Berisha's Australian citizenship application - they could potentially sign Keane as a guest marquee for a full season.
Guest marquees count towards the A-League's import limit of five players, while players on limited guest contracts don't.