AFC Champions League
'There's no mucking around' - Chan Yuen-ting expected to thrive in ACL
Goal Australia Chief Editor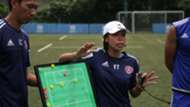 ---
EXCLUSIVE
---
Eastern SC coach Chan Yuen-ting is the story heading into the 2017 AFC Champions League (ACL) group stage but the first woman to lead a men's team in continental competition is unlikely to get affected by the spotlight.
Chan is already a trailblazer for female coaches having become the first woman to lead a men's team to a top-tier league title when she inspired Eastern's 2015-16 triumph after taking over from Yeung Ching-kwong six games into the campaign.
In December, the 28-year-old was named the AFC's Women's Coach of the Year for 2016.
The ex-Hong Kong international will become the first woman to coach in the ACL on Wednesday when she'll go head-to-head with World Cup-winning manager Luiz Felipe Scolari as Eastern visit Chinese Super League champions Guangzhou Evergrande.
Chan's rise in men's football has earned her global recognition - Asian Football Confederation president (AFC) Shaikh Salman bin Ebrahim Al Khalifa has labelled her impending ACL debut "a moment of historical significance" - but she is unlikely to focus on anything other than the game.
Eastern defender Josh Mitchell, who is expected to start against Evergrande, has been impressed by Chan's ability to compartmentalise and not let the media attention affect her coaching work.
How Mitchell paid the bills through poker
"There's always media at training and a lot of the media comes to training to do stories on her or to speak to her and that's normal, and she's also very good with them," Mitchell told Goal.
"She keeps her distance… takes a couple of photos, give a quick interview and back to the training.
"There's no mucking around... she handles it really well and from what I've seen it's all very positive media attention but at the same time she knows she's got a job to do and that's manage the team.
"She'll be the first one at training and she'll be the last one to leave."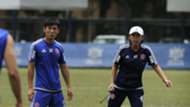 Chan's opportunity at Eastern came after her predecessor Yeung decided to join Chinese League One club Meizhou Hakka as an assistant coach.
Having previously worked for Hong Kong Premier League rivals Pegasus FC and Southern District as an assistant coach, including winning three trophies with the former's Under 18 team, Chan stepped into the manager's role at Mong Kok Stadium.
Mitchell joined Eastern in July after Chan had led the club to the fifth league title in their history and the former A-League player is convinced his manager is "up for" the ACL challenge.
Eastern are the first Hong Kong club to qualify for the ACL group stage where have been drawn with Evergrande, Suwon Bluewings and Kawasaki Frontale in Group G.
"[Chan is] very thorough, very enthusiastic and she wants to achieve great things. She wants to really push herself to try and improve… and she handles the pressure," Mitchell said.
"You never see her waver. You never see her get frustrated.
"She's a real model manager, someone who's there to steer the ship, and she does a great job, so it's been great so far."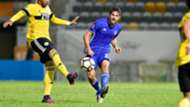 The 32-year-old centre-back added: "She keeps that distance where the players respect her because she's the manager.
"That's something I've found really good because some managers don't do that - they want to be your friend, they want to be your coach, they want to be everything and in the end they lose track."
Chan's first full season as Eastern's manager has started well as her side are top of the Hong Kong Premier League table after 13 matches.
Mitchell gets the sense his boss wants to prove herself again by leading Eastern to the title from start to finish, while also balancing an ACL campaign.
"She wants to win the title this year, you know, even with the ACL and everything else going on to say 'I'm here and I'm the real thing'," he said.