Super League
Ghaddar has one hand on the Golden Boot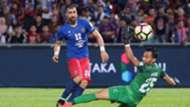 The 2017 Super League season is coming to a close soon, with only one round of fixture remaining in the calendar and it looks like the Golden Boot is all sewned up.
With 23 goals scored in the league this season, Johor Darul Ta'zim's Mohammed Ghaddar is on course to not only win the Golden Boot but also break the record for highest number of goals scored in a Super League season since the league was reduced to 12 teams in 2013.
Pahang's Matheus Alves is behind Ghaddar with 18 goals and unless he scored five goals in Pahang's final match against Perak, he will have to concede to the Lebanese. No player in the Super League has scored five goals this season.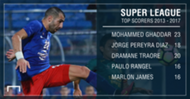 Ghaddar did score the majority of his goals for Kelantan earlier in the season before his move to JDT. 18 goals was plundered in by the striker before his big move to the home of the Southern Tigers. Only five league goals was scored in his time with JDT, although he has scored five goals for them in the Malaysia Cup thus far.
Dramane Traore was the only other player to break the 20-goals barrier in the last five years, during the season he spent with PDRM in 2015. Last season also saw a JDT finished as top scorer with Argentine Jorge Pereyra Diaz lifting the coveted honour.