Transfers
James Rodriguez: Staying at Bayern for years is a good option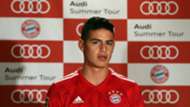 James Rodriguez is ready to get back to training with Bayern Munich and says he's staying with the club despite rumors swirling of a return to Real Madrid or a move to another club.
Rodriguez is in Miami where Bayern faces Manchester City in the International Champions Cup on Saturday night but isn't taking part in the match. He returns to Germany on Monday and will be back in training next week.
While technically still on vacation, he's been meeting fans at promotional events and closing out his holidays in South Florida. Rodriguez then will join up with Bayern and new manager Niko Kovac, who the Colombian said Saturday he's yet to speak with. When the two do converse, though, Rodriguez said he'll be eager to listen to what the manager has planned for him as he looks to help Bayern to another Bundesliga title.
"I think my future is here," Rodriguez said. "There are a lot of rumors, they talk about a lot of clubs, but right now I'm thinking about Bayern Munich. That's my present, and I'm happy here."
Not only does Rodriguez see himself with the club in the 2018-19 season, the midfielder also said he'd be open to a longer stay with the Bavarians should they exercise their option to buy the player's rights after a the two-year loan from Madrid expires. 
"Yeah, why not? Bayern is a big club, a top club also. I'm good here, and why not stay here for years?" he said. "If they want me to be here, I'll be thankful with them because it's a club that put its confidence in me, so I feel all their love. Why not stay here for years? I think it's a good option."
Rodriguez scored seven goals and had 11 assists in league play last season but wasn't so sure he'd take to life in Munich like he did. His opinion of the Bundesliga has changed since he arrived after not knowing much about it before joining Bayern last season.
"It's a good league and you're always playing in full stadiums. It's a league that also has good atmospheres," he said. "I think it's a league I've enjoyed a lot.
"I thought it was going to be a bit bad or worse, but it's good, it has a good level. I say that because the Bundesliga isn't watched much outside the country, and so when you're inside it you see it in another way. I think it's a good league - and for me it's a top league."
While already a star with Monaco, Rodriguez rose to international prominence at the 2014 World Cup where he was the top scorer with six goals. His most recent tournament, however, was more disappointing. He left Colombia's opening group match against Japan after 31 minutes with a calf injury that kept him from being at his best. After going a full 90 minutes in the Cafeteros' victory over Poland, his tournament came to a premature end when he was substituted after a half-hour against Senegal in the final group game.
"It's tough. You feel a bit frustrated because you wait four years to be good, to be able to give everything," he said. "To only be able to play one (full) game is tough, but all this is part of everything else, so you have to stay strong. I can think that not everything is good, so you have to be prepared for everything and be calm when bad things happen."
Rodriguez and Bayern face Kovac's former club, Eintracht Frankfurt, in Aug. 12's Super Cup before opening Bundesliga play against Hoffenheim on Aug. 24.