Real Madrid
Is Vinicius Junior ready for the Real Madrid Galactico limelight?
After the storm of Julen Lopetegui's brief, turbulent reign, something approaching calm has returned to the halls of Santiago Bernabeu.
Thrown in at the deep end with form and morale at rock-bottom, Santiago Solari has repeated Zinedine Zidane's early heroics in stepping up from Castilla to steady the ship after the departure of a more established name. Four straight wins have convinced the Madrid hierachy to hire the Argentine on a permanent basis , while also sending the club hurtling back up the Liga standings having fallen as low as the purgatory of mid-table following their humiliating Clasico reverse.
It is clear, though, that for Solari the real challenge is just beginning. A relative lack of goals – just 20 in the league, compared to Barcelona's 34 – is a real problem in the pressure-cooker of the Bernabeu, and a key factor in Lopetegui's dismissal after just two months of the season.
The new man, however, might just have a not-so secret weapon up his sleeve: Vinicius Junior, whom Solari perhaps knows better than anyone else in the Madrid set-up.
According to Blancos sources consulted by Goal , Lopetegui's failure to integrate the Brazilian teenager in his starting line-up was a secondary factor in the decision to relieve the coach of his duties .
Vinicius played a paltry 12 minutes of senior football under his first Madrid boss, scant return on the £40.5 million ($54m) paid out to Flamengo for the teenager's services in the summer. The feeling was that Lopetegui had no clear idea on how to introduce his prospect to the first team, which was not exactly firing on all cylinders following the exit of Cristiano Ronaldo to Juventus and the entirely predictable drop in potency in front of goal that followed.
It was then Solari who gave Vinicius his first start in his debut on the bench, albeit in a match in which he almost certainly would have featured even if Lopetegui had continued in charge. And he did not disappoint.
The youngster gave Madrid fans a taste of his potential with two assists in a 4-0 drubbing of Melilla, and the following Saturday jumped off the bench to break the deadlock against Valladolid and score his first senior goal , albeit via a huge deflection. A further assist followed as Viktoria Plzen were put to the sword, and while he is still waiting for a maiden start in La Liga or the Champions League, all indications suggest he has a big part to play under Solari.
"Vinicius is one more member of this squad, he is very young and very talented," Solari himself signalled in his introductory press conference in the Madrid hotseat.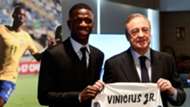 "He has a lot to learn, but also a lot to give. If he is here, it is because he is good enough."
The Argentine has the privilege of commenting with no little knowledge of his charge. Vinicius smashed an impressive four goals in five Castilla outings under Solari, helping the feeder side break into the promotion play-off places in Spain's third-tier Primera Division B.
While the quality of football down the pyramid is logically far inferior to that on offer in the elite, Vinicius had been making all the right noises. It is therefore little surprise to see many onlookers calling for him to play a bigger role in the first team, including some of famous Brazilian luminaries.
"He should have been playing right from the start of the season," ex-Barcelona favourite Rivaldo signalled to Betfair .
"Now he has more opportunities under Solari and I think he will keep winning the right to more minutes, he is a great player who has shown great personality on the pitch. He is showing huge maturity for such a young player, only 18 years old."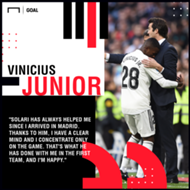 Vinicius repaid the favour, praising his former Castilla coach as both step up to the rigours of Madrid's senior ranks. "Solari has always helped me since I arrived in Madrid," the youngster stated.
"Thanks to him, I have a clear mind and I concentrate only on the game. That's what he has done with me in the first team, and I'm happy."
Of course, it will not be easy even for a player of Vinicius' obvious quality to stake out a regular first-team place. Ahead of the teenager are players of proven world-class ability, with a host of Champions League and other winner's medals hanging from the mantlepiece.
Karim Benzema, Gareth Bale, Mariano Diaz, Marcos Asensio, Isco: there is certainly no shortage of attacking potential at Solari's disposal, no matter how disappointing the start to this season has been. Vinicius' prior links with the Argentine will count for little unless he begins to show he has what it takes to find the net on a regular basis at one of the most demanding clubs in the world.
What Solari's arrival does mean, however, is that the Brazilian is now working under a coach who is also learning the ropes, a man who is sympathetic to the situation of Madrid's young stars and who, since his days starting out with the club's Cadete B (Under-15) division in 2013, has earned a reputation as a trainer more than proficient in the development of promising talents.
It is still too early to say whether Vinicius will follow through on his early potential and become a household name around the Bernabeu. But with Solari on the bench and hungry for success he has a golden opportunity to make a case for selection - the rest, naturally, will be up to him.