Transfers
Is €100m Griezmann the right man for Barcelona and Messi?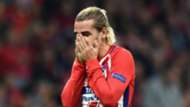 These are trying times for Antoine Griezmann at Atletico. The 26-year-old has not scored in any of his last eight appearances and was booed by his own supporters as he left the pitch in the goalless draw against Real Madrid on Saturday.
Griezmann evens to score anytime v Roma
The France forward is in his fourth season with the Rojiblancos, having decided to stay in the summer because of the club's transfer ban, but he hardly appeared interested in the derby and the fans showed their frustration as he was withdrawn after 77 minutes.
"In my family I was taught that, when someone is in the family, you support them until the death," Atletico coach Diego Simeone said after the match. "While they are one of the family."
That last line was key. Because it now looks likely that Griezmann will move on at the end of the current campaign. His release clause, which rose to €200 million last summer, will drop back down to €100m in July and he remains a top transfer target for Barcelona.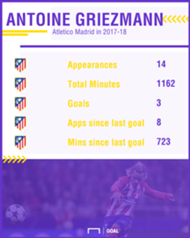 The Catalan club were keen on signing the France forward last summer, but Barca president Josep Maria Bartomeu agreed with Atletico to stay away from Griezmann because of the Rojiblancos' ban and the Bluagrana pursued Ousmane Dembele and Philippe Coutinho instead following the departure of Neymar.
Coutinho and Griezmann will be the two top targets for the Liga leaders in the summer, with Barca well aware that signing either player in the winter window will be almost impossible, while they would not be able to feature for the Blaugrana in the latter stages of the Champions League even if they were to arrive.
"Even though I am lacking titles (he has won only the Spanish Supercopa at Atletico), I have everything to be happy here," Griezmann says in his new book, which came out this week. But he adds: "That doesn't mean I won't leave one day. I haven't made a decision. It will all depend on several factors."
And Atleti team-mate Koke said recently: "He had the chance to leave after the last season, but he didn't. So I think that means he likes it here. We always say if somebody doesn't like it here, he's free to leave. The club and I want the best, we want committed players."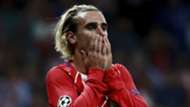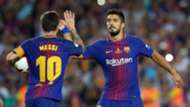 Meanwhile, Jose Mourinho remains interested in signing the Frenchman and Griezmann says in his book. "I haven't got anything against England, apart from the climate. Manchester United is a possibility."
Real Madrid have also considered a move, but Griezmann knows he will become a public enemy number one to the Atletico fans if he switches to the Rojiblancos' rivals. Barcelona, however, is an option if he wants to stay in Spain - where he has played his entire career (for Real Sociedad and Atleti).
But would Griezmann fit in at Barcelona? Many supporters have been put off by the Frenchman's recent displays and there are also still some doubts about his ability to perform when it matters most, having missed a penalty in the 2016 Champions League final and failed to deliver for France in the Euro 2016 showpiece against Portugal that same summer.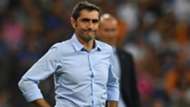 In addition, Griezmann, like Lionel Messi, is left-footed and occupies similar spaces to the Argentine attacker. It is for that reason that Barca ruled out a move for Juventus' Paulo Dybala last summer. So why do they want the Frenchman but not the South American?
Valverde likes having different tactical options at his disposal and has used 4-4-2, 4-2-3-1 and 4-3-3 this season. Griezmann could operate on either wing, as a lone striker or in a partnership up front alongside Luis Suarez, with Messi in a deeper role. He is versatile, still young, and one of the finest forwards around when on form.
He has not become a poor player over night (having hit 25 goals or more in each of his last three seasons) either and at Barca, the team's extra creativity means he would have many more chances that he does at Atletico, where he may benefit later this season by linking up with Diego Costa.
Even if he does, Atleti are on the verge of elimination from the Champions League and appear unlikely to challenge for La Liga, so a move to Camp Nou could tempt Griezmann, who is eager to win titles and also likes living in Spain. Whether or not it is the right one for Barcelona, however, remains to be seen.