Xherdan Shaqiri
Indispensable Shaqiri brings Salah to the fore and keeps Liverpool rolling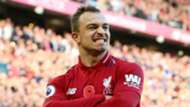 It may have spluttered in midweek, but the Liverpool machine is back in business. 
Jurgen Klopp called for "a reaction" from his players after Tuesday's Champions League shocker and he got the right one in the end. Bad as things were in Belgrade, you can't keep this team down for too long. 
In the end it was comfortable, the kind of afternoon for which the phrase 'routine home win' was invented. Fulham, the Premier League's bottom side, were overpowered in the Anfield sunshine. The 2-0 scoreline could have been more emphatic as the second-half wore on. 
This, then, is officially Liverpool's best start to a Premier League campaign. Never have they had more points after 12 games, never have they had a better goal difference, kept more clean sheets or conceded fewer goals. The team's progress, in all aspects, is there to see – whether they are playing 'City football' or not. 
In keeping with their campaign, they were short of their very best here. They enjoyed an element of fortune in taking the lead four minutes before half-time – on another day, with another assistant referee, they'd have been 1-0 down instead of 1-0 up – and Fulham certainly had their moments. Slavisa Jokanovic's side don't look like the worst in the league on this evidence. 
The thing about this Liverpool team, though, is that it has learned how to win, that moments and flashes can be enough if fluidity eludes them. And with such attacking riches at his disposal, Klopp can be sure that those moments and flashes will come. 
They came here, a lightning-quick counter-attack giving Mohamed Salah his eighth goal of the campaign and a cool-as-you-like volley bringing Xherdan Shaqiri his second. Fitting, then, that the game's two standout players (along with the imperious Virgil van Dijk, it must be added) should decide it.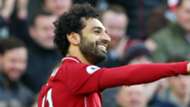 Shaqiri's impact at Anfield has been huge. The Swiss star was the least-heralded of Liverpool's four summer signings but, along with Alisson Becker, is making the biggest difference. The standing ovation he got when replaced by James Milner nine minutes from time here told its own story. He's already a fans favourite.  
No wonder. Not only is he bringing his own excellence - his finish here was clinically taken – but his liveliness, confidence and mentality seems to be rubbing off on those around him. Salah, in particular, seems happier when the former Stoke man is on the field. 
The Egyptian started as Liverpool's main striker here, Klopp reverting to the 4-2-3-1 system once more on home soil. It isn't perfect, not yet, but with Salah back scoring – that's 24 in his last 22 Anfield appearances, by the way – and Shaqiri in this kind of form, it should be persisted with. Certainly, Salah looks more comfortable centrally than from the right at present - though Roberto Firmino's form has been a little indifferent in the tweaked formation. The Brazilian has not scored a league goal in two months; both he and Sadio Mane were below par here.
Either way, Shaqiri is making himself indispensable. How he was missed in Belgrade, when the club took a diplomatic decision to leave him at home for fear of stoking tensions with Serbian supporters. An error, in hindsight. One suspects it will not be made again. 
"We play better," Klopp said in his programme notes, "when we play with joy." Shaqiri embodies that; he looks like a player desperate to seize his chance at this club. His energy, endeavour and quality adds a dimension lacking when he isn't there. There's a smile on his face and a spring in his step. Against opposition such as this, he's the perfect addition.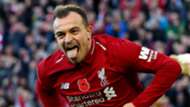 Fulham will feel a little aggrieved, of course. The Londoners were on the wrong end of the most marginal of offside calls immediately before Liverpool's first goal, with Aleksandar Mitrovic flagged as he headed Tom Cairney's centre home in front of the Kop. Thirteen seconds later, via the quick thinking of Alisson and Trent Alexander-Arnold, plus the calmness of Salah, they were behind. Never switch off in the Premier League, you could say, but on another day Mitrovic would have been celebrating. 
Klopp had sympathy for Fulham, though he was understandably delighted by his own side's reaction. "Ali, Trent, Mo and done," he said. "It was a fantastic situation."
It gave Liverpool a lead they would not surrender. Shaqiri, sidefooting home on the volley from the excellent Andy Robertson's cross, would double it eight minutes after half-time. Cool and casual, just like his celebration. Arms folded, he's arrived at Anfield alright. The smile on his face as he walked through the mixed zone, post-match, spoke volumes. 
There might have been more goals for the home fans to enjoy – Sergio Rico was excellent in the Fulham goal and Liverpool were able to control the game in second gear in any case – but for now two will do. With 30 points from a possible 36, the Reds remain very much in the race, however they're playing.
And if Shaqiri and Salah can keep up this form, they'll be in it for a while longer, too...