Liverpool
Humble Xabi Alonso should go down as a midfield great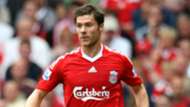 ---
COMMENT
---
"Lived it. Loved it. Farewell, beautiful game." Xabi Alonso's retirement announcement was wonderfully fitting: short and sweet; simple and effective. Just like the midfielder's play.
For that reason, he probably never got the credit he deserved. He will bring the curtain down on his career this summer having won every major honour in football, yet there are those that do not consider him one of the game's greatest playmakers.
Xabi Alonso announces retirement
But then, there have always been doubters. From Real Madrid, who were unsure if Alonso was really worth the €16 million asking price Real Socieded placed upon him in the summer of 2004, to the man who lured him to Liverpool, Rafael Benitez.
Indeed, the Spanish coach infamously tried to sell his compatriot in 2008 to fund a move for Gareth Barry. An irate Kop made their feelings known before a pre-season friendly with Lazio: "You can shove your Gareth Barry up your arse!"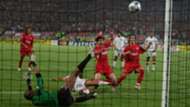 Alonso was beloved by the Anfield faithful and it was easy to understand why. With his vision and passing, the brilliant Basque evoked memories of another Liverpool legend in Jan Molby, who had also immersed himself fully in life on Merseyside.
He loved the Scouse mentality and became great friends with Jamie Carragher, spending hours with the Liverpudlian arguing over the intricacies of the game. "I would say, 'Carra, shut the fuck up, you have no idea!'" he revealed. "But he liked all of that: the confrontation."
But Alonso was a true student of the game and he admitted the learned a lot from not only Carragher but also Steven Gerrard, Didi Hamann and Sami Hyypia.
Move over, Messi, it's Neymar's night!
He was intelligent and opinionated but self-critical and humble. When he became celebrated in England for scoring goals from inside his own half, he was baffled by the plaudits that came his way.
"Where is the risk in [shooting from that far out]?" he asked. "There is no risk. If the shot does not result in a goal, it does not matter, because nobody expects me to score. In these situations, only the goalkeeper looks stupid.
"I don't try to do things that might make me look stupid, because the risk is there. How many times have you seen me run into the box with the ball, dribbling past players? It's uncommon because it's not my game; it's not my thing."
He wasn't shy about admitting that tackling wasn't his thing either, revealing in 2011 that he didn't see as a "quality" but "a last resort".
"At Liverpool, I used to read the matchday programme and you'd read an interview with a lad from the youth team," he explained. "They'd ask: age, heroes, strong points, etc. He'd reply: 'Shooting and tackling'.
"I can't get into my head that football development would educate tackling as a quality, something to learn, to teach, a characteristic of your play. How can that be a way of seeing the game? I just don't understand football in those terms."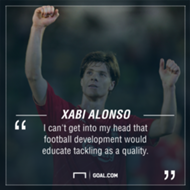 For Alonso, the game was all about being proactive rather than reactive, possession rather than passion. If a midfielder needed to go to ground to win the ball back, either he or one of his team-mates had made a mistake somewhere else.
He never took the moral high ground on the issue, though, always emphasising that he loved the English game and that it made him a better player. Yet Alonso was all about making other players better; making other teams better.
He won the Champions League in his first season at Liverpool. After conquering both Europe and the world with Spain, he played a pivotal role in Jose Mourinho's Real Madrid breaking Barcelona's stranglehold on the Liga title before then helping Carlo Ancelotti's Blancos end the club's 12-year wait for a 10th European title.
Thiago Silva the worst captain ever
Now, at Bayern Munich, he is hoping to lift the Champions League with a third team. It would be an even more fitting farewell than his retirement post. Not that he needs it, of course. He has already done enough in the eyes of so many fans of the beautiful game to warrant a place among the elite.
As Carragher himself said, "Not a bad career, pass master!" This time, even the humble Alonso might agree.