A-League
Elimination Final matches set after A-League finale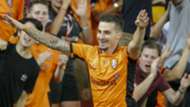 Brisbane Roar FC will play host to Western Sydney Wanderers FC on Friday, April 21 at 7.50pm (AEST) in the first of the A-League Elimination Final matches, while Melbourne City FC will host Perth Glory in the second Elimination Final on Sunday, April 23 at 7pm (AEST)
Brisbane finished third in the A-League standings and faced a Western Sydney side that finished with the lowest points total of any team to make the post season. 
Jets part ways with Mark Jones
Fourth placed Melbourne City won the right to host fifth placed Perth despite the teams finishing level on 39 points. 
Dates and times for the second week of the A-League 2017 Finals Series will be confirmed when the results of the Elimination Finals are known.