Transfers
How much would it cost to sign Cristiano Ronaldo?
Alberto Pinero & Ben Hayward
---
ANALYSIS
---
It is the news that has shocked Spain. According to Portuguese sports daily A Bola, Cristiano Ronaldo has decided to leave Real Madrid and the paper describes the decision as "irreversible".
RUMOURS: Ronaldo asks to leave Real Madrid
The four-time Ballon d'Or winner is enjoying the best spell of his career since signing for Los Blancos, having helped his club to a first Liga title since 2011-12 and also a third Champions League crown in four seasons. His important goals en route to those two trophies make him odds-on favourite to win a fifth Ballon d'Or later this year.
Off the pitch, however, the Portuguese has been accused of evading €14.7 million in taxes and it is a perceived lack of support from his club that is allegedly behind his decision to leave Madrid.
Ronaldo's release clause is set an a prohibitive €1 billion after the Portuguese signed a contract extension last November. That deal was supposed to keep Cristiano at the Santiago Bernabeu until 2021 and he told the Madrid media at the time that it would not be his last deal with the Spanish side.
That figure is almost 10 times more than Manchester United paid for Paul Pogba last summer to break the world transfer record and no club would be able to offer that sort of money without breaking Financial Fair Play regulations.
'Cristiano will win Ballon d'Or again'
At the age of 32, Ronaldo's real value is a lot less anyway, although the former Man Utd forward proved by hitting 10 goals in the quarter-finals, semi-finals and final of the Champions League that he is still playing at an astonishing level.
A Bola claimed a week ago that one club had offered €180m for Ronaldo and that number is more realistic, although Madrid would want and demand a higher sum for the greatest goalscorer in their team's history.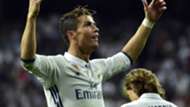 United are one of the clubs who could afford to sign Ronaldo, although the player's rocky relationship with Jose Mourinho in the coach's last season at Madrid would make such a move difficult.
Ronaldo accused of €14.7m tax evasion
Paris Saint-Germain have been touted as another possible destination for the Portuguese, with the French giants looking to bounce back after losing Ligue 1 to Monaco last season and also establish themselves as a force in Europe. A move to China is another alternative for the Madeira-born attacker.
Madrid, meanwhile, have refused to make any comment and with Ronaldo away at the Confederations Cup in Russia with Portugal, this story is set to run and run over the coming days and weeks.