Premier League
Guardiola tells Man City hierarchy: Make the Etihad noisier!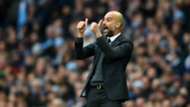 Pep Guardiola has told his Manchester City employers to come up with a way of improving the atmosphere at the Etihad Stadium and to stop fans leaving early, Goal has learned.
Guardiola has publicly stated that he is "so, so glad" about the club's fans, and specifically how they supported the team on the back of Champions League elimination and three consecutive Premier League games without a win.
Resurgent Rashford rides to the rescue
But he has also said he "misses the pressure" of working in Spain and Germany, where fans are more demanding of results, and he insists a pressurised atmosphere would help instil a winning mentality in his squad.
Goal has learned that Guardiola, privately, wants a noisier and more committed crowd at the Etihad, and that he has spoken to City CEO Ferrano Soriano about coming up with solutions.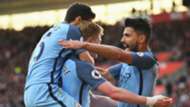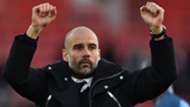 Earlier this month, fans' groups and the club agreed on a new initiative whereby the City captain will choose to attack the south stand - where a singing section has been set up - in the second half of matches, should he win the pre-match coin toss.
And it is understood that further talks between the club and supporters' groups are scheduled to take place in the coming months in a bid to improve the atmosphere, and to stop fans leaving before the final whistle.
Arsenal win race to sign Kolasinac
City are continuously in consultation with fans about best practice on match days, but Guardiola's personal desire for a noisier crowd has ensured the club will prioritise the atmosphere within the stadium ahead of the start of next season.
Guardiola mentioned the fans on several occasions following City's 3-0 victory at Southampton on Saturday.
Asked about the importance of having Vincent Kompany available for next Sunday's FA Cup semi-final at Wembley, the Catalan closed his short answer by saying: "Hopefully our supporters can travel to London as much as possible and support us. Away this season our supporters are fantastic, all season."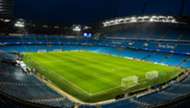 And when discussing the upcoming games against Arsenal and Manchester United, he again brought up the atmosphere at the Etihad.
"Here I miss a little bit the pressure," he said. "Especially in Spain and in Germany, the pressure is higher to the players, to the managers, to everybody. Here it is calm. For example the fans are always perfect, I love that, and you know the club is amazing, the club supports everybody.
"[But] sometimes when you realise you cannot lose you feel the pressure, because you will be so criticised. To help the players step forward you have to create something to make them believe they [must not] lose, and we need time to create something to put in the heads and the hearts of the players that if you want to become a stronger club and stronger team that we cannot drop points at home."
Who wants to avoid who in the Champions League semi-final
He added: "We were out of the Champions League in Monaco, we played three tough games against Liverpool, Arsenal and Chelsea, and we didn't win one game, and our game against Hull City our supporters [claps] helped us and supported us.
"And that in Italy, in Spain, doesn't happen, that's why I'm so, so glad for the fans we have, because for the first time in my life I have experienced that."
Jurgen Klopp aired similar gripes with the Liverpool crowd 18 months ago when thousands of fans left Anfield after Scott Dann scored what proved to be an 82nd minute winner for Crystal Palace.
The German said he was "disappointed" and felt "pretty alone" in the stadium but, when asked about the situation this week, he insisted things have changed for the better.
"A few fans closed the game a little bit early, that's not how I am. It changed a lot since then," he told a press conference.
"I think the team earned more trust, more faith, more belief. People think that we can change a game in the last few minutes.
"I feel really good with people at the moment, how we act as a Liverpool family, and that's really cool. The atmosphere is good.
"We have to deliver, after an emotional start from the stands, it's our job to deliver excitement and that's what we try to do. It feels like it could be a mistake to leave early and that's what I want."