WTF
Giroud to voice Green Goblin in new Spider-Man film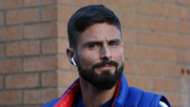 Chelsea striker Olivier Giroud has confirmed he will voice the Green Goblin character in an upcoming French version of a new Spider-Man movie.
Giroud isn't the only footballer slated to play a role in the film, with Paris Saint-Germain defender Presnel Kimpembe set to take on the voice of Scorpion.
Both players confirmed their roles on Tuesday with posts on Twitter. 
Je suis très heureux de vous annoncer que je prêterai ma voix au Green goblin dans le film #SpiderManNewGeneration, le 12 décembre au cinéma !@SonyPicturesFr pic.twitter.com/rlWxb96A3u

— Olivier Giroud (@_OlivierGiroud_) November 13, 2018
Spider Man New Generation 🕷️🕸️ coming soon !!! Attention au Scorpion 🦂 (c'est moi) . RV le 12 décembre 👋🏾 @StephaneBak @Camelia_Jordana @_OlivierGiroud_ @SonyPicturesFr #SpiderManNewGeneration pic.twitter.com/mK8Oo6mDc0

— Presnel Kimpembe (@kimpembe_3) November 13, 2018
The film, which comes out on December 12, is called "Spider-Man: Into the Spider-Verse" in English, while the French equivalent will be titled "Spider-Man: New Generation."
Giroud and Kimpembe were team-mates on France's victorious World Cup side this summer, and will be in action on Friday as Les Bleus take on the Netherlands in Nations League action.
France will be without the injured pair of Paul Pogba and Anthony Martial, who have pulled out of the game against the Dutch and a friendly against Uruguay with injury.
France lead League A Group 1 with seven points from three matches, and anything other than a loss to the Dutch would see the side top the group and move into the competition's final four. 
And Giroud, who has scored just one Europa League goal so far this season for Chelsea, could be asked to carry a heavy load with the Manchester United stars out of action. 
The 32-year-old scored in a 2-1 win over Netherlands in September, while Antoine Griezmann was the star man for the side in a 2-1 win over Germany last month. 
A loss to the Dutch would leave the French side in the position of sitting and waiting, with Germany and the Netherlands set to face off next Monday in what will be the final match in the three-team group.