Liga MX
Gignac formidable but Tigres' defense leading Liga MX title charge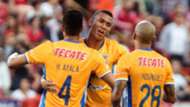 When a player is capable of running off seven goals in three games, they're going to draw attention. When that player is Andre-Pierre Gignac, the gregarious Frenchman who has taken to Mexico as it has taken to him, it's even more so. 
So when Gignac spearheads Tigres' attack in the first leg of the Liga MX Clausura final on Thursday against Chivas, there will be plenty of people watching him. While he hadn't played in playoffs before arriving in the Americas, he's taken to the format, scoring 14 goals in 18 playoff appearances.
Chivas, Tigres seeking historic doubles
And while he will pose a formidable challenge for a Chivas defense trying to cope without center back Jair Pereira, who is out with a hamstring injury, it's not Gignac that should have Chivas most worried. While Tigres' attack is strong — and in form — it's the defense that has been so difficult for teams to beat. The back line — center backs Juninho and Hugo Ayala along with converted right back Luis Rodriguez and the combination of Alberto Acosta and Luis Advincula platooning on the left side for injured Jorge Torres Nilo — has conceded just once in the postseason. Even more impressively, Ferretti's men have avoided giving up multiple goals since a 4-2 win over Club America, making up a 24-match streak of allowing one goal or fewer.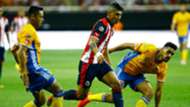 Chivas, of course, could break all that with a double, but that hasn't looked especially likely in the last few games. Matias Almeyda's side has suffered because of injuries to a number of their best attackers, including Rodolfo Pizarro, Angel Zaldivar and Isaac "El Conejo" Brizuela. Forward Alan Pulido and winger Javier "La Chofis" Lopez have struggled without Pizaroo's influence. And while the former Pachuca playmaker returned to the field for a start in the second leg of the semifinal, Zaldivar looked to have reinjured himself and had to come off the field — as did second-choice center back Carlos Salcido.
The encounter has the look of a matchup that Tigres can control, even though Almeyda is likely to challenge Ferretti's plan for his team to hold onto the ball as much as possible. Even when teams have been able to get possession and breach Tigres' central midfield pair of Jesus Duenas and Guido Pizarro, it's been difficult for them to beat Mexico international Ayala or Brazilian veteran Juninho. And Argentina's potential new No. 1 under Jorge Sampaoli, Nahuel Guzman, got a few errors out of his system early in the campaign and has been back to his stellar form as Tigres charged up the table and into the final.
As the reigning champion stumbled out of the gates at the start of the season, the defense was in some ways at fault but it was largely the attack's failure to restart after a triumphant Apertura campaign. The defense also went through a bit of a transition with Israel Jimenez's injury lead the team to bring in Advincula to shore up the right side, though Rodriguez's savvy adaptation has seen him hold on to that role for the last several weeks. And the center-back core in front of Guzman has stayed solid, with Juninho able to ward off some of the effects of time that have vexed many of his peers.
The importance of a strong first leg won't be lost on Tigres, who were eliminated from the 2016 Clausura in the first round after Monterrey jumped out to a big win in El Volcan. This year's rematch of the Clasico Regio in the quarterfinals went the opposite way, with Gignac scoring twice in a 4-1 win that was insurmountable for Rayados. Similarly, the 2-0 victory in the first leg of the semifinal combined with the stingy defense made it the second leg in Tijuana nearly academic — doubly so when Javier Aquino was able to take advantage of Xolos' need to attack with a goal just after the hour mark.
Tigres will once again need a strong first leg to move on, but if they get it they may become just the third bicampeon since Mexican soccer moved to short tournaments in the 90s. And while Gignac and his fellow attackers will receive and deserve plenty of the glory, it will be thanks to the work of Ferretti's defense that Tigres were able to turn a bad season and the No. 7 seed into another league trophy.