Gareth Bale
Gareth Bale to open sports bar in Cardiff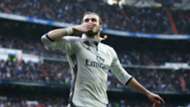 Real Madrid star Gareth Bale has announced that he will soon open a sports bar in Cardiff.
The attacker announced on St David's Day, the patron saint of Wales, that a long-term ambition of his will be realised when his Elevens Bar & Grill opens in the nation's capital.
Named after his shirt number and carrying his trademark symbol, Bale hopes to open the new business in late spring or early summer 2017, and he is said to have been heavily involved in the preparations, having helped put drinks menus together and tasted the food that will be served.
"It has been a big goal and ambition of mine to open a sports bar in Cardiff," the former Tottenham star said. "There is not a specific main venue where you can go and watch sport. It would be nice for people to come and for it to be known for airing big events, with nice food and drink with a family friendly atmosphere.
"I have been to sports bars around the world before and it is nice to get that sports bar food, the pizzas, the burgers, the picky stuff that everyone loves. We hope to have the best burger in Cardiff and really looking forward to getting people in to enjoy the experience.
WATCH: Sir Alex reacts to Zlatan goal
"It was massively important for us to work with somebody like Brains, the leading brewer in Wales. They have been involved with football in the community and they have sponsored the FAW for a long time. A great choice for us to work together. It is about providing a location where everyone can go and have a great experience while watching sport.
"The site of the Elevens Bar & Grill has been a pub since the 1730s and with this new lease of life it will remain an iconic Cardiff venue for many more years to come."