Kevin Gameiro
Gameiro rejected Barcelona to avoid Zlatan comparisons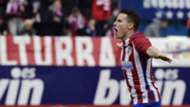 Kevin Gameiro turned down Barcelona in favour of a move to Atletico Madrid because he didn't want to end up like Zlatan Ibrahimovic.
Gameiro chose Atleti over a move to the Catalan giants last summer, in a deal that saw him depart Sevilla for around €30 million.
Ibrahimovic fell out of favour with Pep Guardiola after just a season at Camp Nou, following his arrival from Inter Milan in 2009, and the Atleti forward was wary of following the same path.
"I had the choice between going to Barca or coming to Atletico," Gameiro told Le10 Sport.
"But what am I going to do at Barca? There's Neymar, [Lionel] Messi and [Luis] Suarez.
"There are players like that who want to play every match, who refuse to come off for even ten minutes at the end. That's what happened with Ibra."
Mbappe uncle names next potential club 
Gameiro's fears were realised for Pablo Alcacer, who joined Barcelona for €30 million from Valencia after Luis Enrique missed out on the 29-year old.
Alcacer has had little luck at Camp Nou, finding his chances limited as he watches on from the bench, though he has appeared more recently, scoring seven goals in all competitions since his first in December.