Transfers
Former Milan striker Pato refuses to rule out Inter switch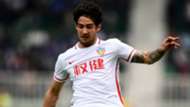 Alexandre Pato admits to being "in love with Italy" and has refused to rule out a potential transfer to Inter.
The Brazilian striker previously spent five years at the San Siro with Milan between 2007 and 2012.
They helped him to make a mark in Europe, before a dip in form led him back to his homeland with Corinthians.
WATCH: Pato's superb free-kick
Pato has since taken in spells at Chelsea and Villarreal, before moving to China to link up with Tianjin Quanjian.
He claims to be enjoying his CSL adventure, but told Gazzetta dello Sport on a possible return to Serie A: "I'm in love with Italy: I'm fine in China at the moment and I'm happy to contribute to this project for football development, but in the future who knows.
"Would I say 'yes' to Inter? Why not? I'm a professional."
Pato burst onto the scene with Milan, netting on his debut and breaking into double figures in terms of goals scored for three successive seasons.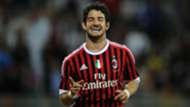 He was, however, to endure form and fitness issues towards the end of his stay, leading to him eventually forcing then president Silvio Berlusconi to reluctantly sanction a move elsewhere.
Pato added on his time with the Rossoneri: "Berlusconi tried to keep me twice. It first happened in January 2012: not going to PSG wasn't my decision.
"Barbara [Berlusconi] told me that her father wanted to talk to me, the president called me while I was having breakfast and said to me, 'you won't leave, you're our symbol.' I respected his will.
'Donnarumma's head turned by Raiola'
"I continued to have physical problems. For Berlusconi, I was always unsellable, but I went to him and convinced him.
"I told him it was for my own good. I had to regain my confidence. Someone at Milan told me that I wouldn't be able to play again, but I knew that wasn't the case. That's why I left.
"I had to change my way of training and recovering. Corinthians changed my preparation in 20 days and I started to feel good again."
Pato has impressed with Tianjin since completing a £15.5 million transfer, scoring seven goals in 14 appearances to date.