United States
Five takeaways from USA's draw with Portugal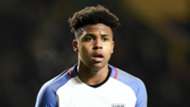 You couldn't blame U.S. national team fans for wishing they had a time machine they could have jumped into Tuesday to go back and beg Bruce Arena to call up youngsters like Weston McKennie, Tyler Adams and Matt Miazga.
All three looked impressive in a 1-1 draw against Portugal. Their performances may have come in a meaningless match against a Portuguese B team that looked disinterested at times, but it was still a meeting against high-level competition. The U.S. played with real purpose and energy, looking nothing like the lethargic squad that sleepwalked through the October loss to Trinidad & Tobago that ultimately cost the team its place at the 2018 World Cup.
Instead of looking back at what might have been, it is a much healthier exercise to look ahead at what could come from this young nucleus of talent in the year and a half between now and the next truly meaningful matches the U.S. will play. Plenty can change in that time. Some prospects could see their trajectories stall, while others could see theirs skyrocket. Some older players will be fighting against not only a new generation of talent, but also the natural decline that comes with aging.
The good news is Tuesday's draw suggests there is serious talent in the pipeline to hopefully ensure that Christian Pulisic isn't alone in his quest to revive the U.S. after the nightmare of missing out on a trip to Russia.
Here is a closer look at some key takeaways from Tuesday's USA-Portugal draw:
---
MCKENNIE AND ADAMS SHINE IN DEBUTS
---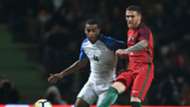 You couldn't have drawn up a better moment to excite U.S. fans than having McKennie dribble through Portugal's defense for the match's opening goal Tuesday, a moment that perfectly encapsulated the Schalke midfielder's considerable promise. It was McKennie who made the sliding interception to start the goal sequence before he raced down the left channel, perfectly collected a C.J. Sapong pass and deftly maneuvered to strike a collected finish he made look much easier than it was.
The goal was the key highlight, but it was McKennie's poise and engine in midfield that made his overall performance so encouraging. It shouldn't have been a complete surprise considering McKennie has shown enough to break into Schalke's starting lineup, but it was still exciting to watch in a U.S. uniform. It was also a chance for McKennie to show there is more to his game than being a ball-winning defensive midfielder.
A glimpse into the future @WMckennie becomes 3rd youngest #USMNT player to score in his first cap! pic.twitter.com/If9MSLv47R

— U.S. Soccer (@ussoccer) November 14, 2017
Adams also showed off the considerable versatility that makes him such an exciting prospect. The 18-year-old Red Bulls midfielder has already shown in MLS that he can thrive both in central midfield and as a right wing back, and Tuesday he impressed working on the right wing. He put himself in dangerous spots on multiple occasions, and came within a diving one-handed save of joining McKennie on the score sheet.
For those who hadn't seen much of Adams before, they were treated to the wide array of strengths in his game, from his speed and tenacity to his ability to deliver sharp passes and get into effective attacking positions, along with his ability to effectively defend. These are traits that could let him thrive as a right back, right wing back or potentially even as a right winger, though it's still a good bet his club and international future lies in central midfield, where he has the characteristics to one day be a box-to-box dynamo.
---
BROOKS LOOKS READY TO LEAD
---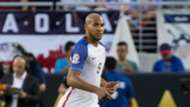 Injuries kept John Brooks from taking part in any of the U.S. national team's qualifiers in the fall, and his showing against Portugal served as a painful reminder of what the U.S. was missing against Costa Rica, Honduras and Trinidad & Tobago. Brooks played well against Portugal — and had an excellent headed goal nullified by a Miazga foul — but the most promising aspect of his 45-minute appearance was how much he embraced being the leader of the back line. He was vocal and demonstrative, directing his young teammates and communicating in a way we haven't really seen from him before.
It's an excellent sign for a player who is still just 24, but who has now made the transition from youngster to veteran. With the older central defenders in the player pool looking very likely to be passed up by a strong generation of younger options, Brooks will be called on to be more of a leader than he has been before. The key for Brooks will be for him to continue to stay healthy, an issue that has dogged him throughout his career.
---
HORVATH ENDURES ROUGH DAY
---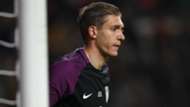 There may not have been a sadder sight than the image of Ethan Horvath sitting slumped on the U.S. bench with his head down as the final minutes of Tuesday's friendly ticked away. It was clear he wasn't about to forget the calamitous blunder he committed that gifted Portugal its goal, an error sure to live on in highlight reels for years to come.
What won't make highlight reels, but should be remembered, is how he responded after the blunder. He made several solid plays to keep Portugal from adding another goal, and while he did have one other extremely shaky moment with an ill-advised pass that led directly to a Portugal chance, Horvath was able to steady himself enough to finish out the first half.
Horvath's second U.S. appearance was a disaster, but perhaps that shouldn't have come as a complete surprise considering his form has dipped at Club Brugge enough to lead him to be benched recently. The goalkeeper position is very much a confidence position, and it was clear that Horvath's confidence is in the gutter. That being said, he is still just 22, and writing him of for a shaky showing at that age would be extremely premature.
Along with reminding us that young goalkeepers can be an adventure to follow, Horvath's blunder should also remind us that the U.S. starting goalkeeper position is wide open heading into the next World Cup cycle. Brad Guzan isn't ready to hang up his gloves just yet, and at 33, he may still have a part to play when meaningful matches return in two years. But a promising group of young goalkeepers is emerging to join Horvath in the chase for that coveted starting job.
Bill Hamid, Zack Steffen, Alex Bono and Jonathan Klinsmann are all in their early to mid-20s and they all still have time to develop into starting options for whichever coach is handed the keys to the next qualifying cycle. Horvath may not be ready to lead the race for the top spot, but he isn't someone who should be written off because of one bad game.
---
VETERANS STATE STRONG CASES
---
Danny Williams has largely been in the U.S. national team wilderness for the past two years, having essentially been cast off by Jurgen Klinsmann after his decision to leave the Bundesliga for the English League Championship. He was then ignored by Bruce Arena. On Tuesday, he looked very much like a player with something to offer in a defensive midfield role. That shouldn't surprise anyone given his exploits with Huddersfield Town in the Premier League. The 28-year-old embraced this new opportunity, impressing the U.S. coaching staff enough to earn the captain's armband ahead of other players with more national team caps.
Sapong also made the most of his chance, earning a start and then showing all the qualities as a target forward to make him a player capable of offering some much-needed depth in that role. For too long it has been Jozy Altidore or bust, with Bobby Wood used in the role when Altidore has been unavailable. But Sapong showed why he finished as the top American goal-scorer in MLS in 2017, with his improved hold-up play and passing, as well as his willingness to provide defensive pressure.
Both Williams and Sapong are 28, which puts them on the outer range of potential 2022 contributors, but they both showed enough Tuesday to suggest they should be considered as options in 2018.
---
ARENA'S TV APPEARANCE WAS A DISASTER
---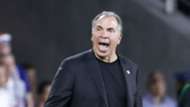 If you were left shocked to see Arena on the Fox broadcast of the USA-Portugal match, you definitely were not alone. How anybody thought having the former U.S. coach serve as an analyst in the first USMNT match since he led the team to its fateful World Cup qualifying loss to Trinidad & Tobago is mind-boggling, and the result was a tone-deaf broadcast that served to sour an otherwise encouraging day for U.S. fans.
Arena's decision to actually accept the role was shocking in its lack of self awareness, but it didn't take long to understand why he took it. Arena basically spent his time on air trying to put the team's qualifying failure into a context that made it seem like less of a damning indictment of his handling of the job.
It wound up having the opposite effect, though, with Arena dropping several head-scratching statements, such as his claim that he should have gone with essentially a full MLS-based squad in September's qualifying loss to Costa Rica (count me among those who will give Arena the benefit of the doubt that he meant to count Pulisic as an exception). His flippant remark suggesting no players fall through the cracks in U.S. Soccer's player development setup surely infuriated the viewers who hadn't long since tuned out.
Someone needed to save Arena from himself and tell him just how bad an idea it was. The sad part is the appearance only did more damage to a reputation of a coach who deserves plenty of respect even with last month's failure. Arena's resume is unmatched among American coaches, but Tuesday's broadcast only served to further tarnish the public's view of him.
Arena made several comments that just left you cringing, but the overarching sentiment generated by his Fox appearance was that it was an absolute disaster, not only because of what it wound up producing on air but because of the fact it served as a painful and unnecessary reminder of October's World Cup qualifying nightmare.