Mexico
Osorio likes what he sees in 19-year-old Alvarez's game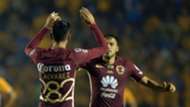 LAS VEGAS — Juan Carlos Osorio said has faith in Edson Alvarez, despite the Club America defender's young age.
The Mexico coach could hand the 19-year-old his first senior cap Wednesday when El Tri meet Iceland in a friendly. Club America coach Ricardo La Volpe handed Alvarez an opportunity for first-team minutes last campaign, and Osorio likes what he's seen from Aguilas' homegrown player.
U.S. wants Tillman: "We're on top of it"
"We think that Edson is a very technical player with a good aerial game," Osorio said Tuesday in a news conference. "It seems that he has that pause, that extra second to make a good decisions whether he plays in a defensive line whether it's a back three, back four and/or we think that he can be very effective in midfield.
"So, his attributes amongst others are, as I said, aerial game, technical player, he can run with the ball, he can pass it, and it seems that he is indeed one of the Mexican players with a great present and a very prominent future."
Though Alvarez still is just a teenager and has played fewer than 20 professional games, the Colombian coach is excited to see if the center back, who also has played as a holding midfielder, is ready for demands of the international game.
"It's not a problem to select him, to get to know him and have him get to know us, to see if this versatility that he's shown with his club can translate to the national team," Osorio said.
Mexico kicks off against Iceland at 10:06 p.m, ET on Wednesday in the team's first match of 2017.