Super League
Dollah Salleh suspended for 18 months by FAM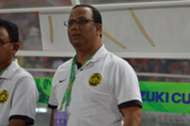 ---
BY        ZULHILMI ZAINAL       Follow on Twitter
---
Pahang head coach Dollah Salleh has been suspended 18 months by the Malaysian FA (FAM) Disciplinary Committee, the committee announced on Saturday morning.
According to a press release the committee issued, Dollah was handed the sentence after he was found guilty of breaching Article 61 of the FAM Disciplinary Code and Article 88 of the FAM Statute, by making a statement that could tarnish the image and reputation of the association.
Dollah is said to have committed the offence after the Super League match between Felda United and Pahang in Jengka, on July 1.
For having been found guilty, the former Malaysia head coach has been barred from any involvement in footballing activities organised by FAM for 18 months and fined RM30,000 (USD7,000).
However, according to committee, the ban will only take effect for nine months initially, as it has also chosen to utilise Article 35 of the FAM Disciplinary Code. This means Dollah will be suspended for nine months, from 21 July 2017 to 20 April 2018, and will be allowed to return to footballing activities afterwards. However, he will be on probation for a period of 12 months after that, and the remainder of the suspension will take effect immediately if he repeats his offence during the probational period.
The punishment was decided by the committee in a meeting that was held on July 20.
After the match that ended in a 2-1 win to the hosts with the referee awarding a last-minute penalty to Felda which was converted for the winner, Dollah criticised the quality of refereeing in the encounter.