Bayern München
Der Professor! Why Wenger is the perfect coach for Bayern Munich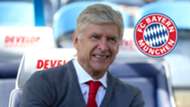 This is a new era for Bayern Munich. In the past decade, the club has gone through difficult patches but always able to salvage the situation and return to greatness.
On each of those occasions, the solution was identical: Call Jupp Heynckes. The legendary coach was the man the Bayern bosses turned to in times of crisis, returning him to the dugout every time the team was underperforming.
After they won the treble in 2012-13, Heynckes retired to be replaced by Pep Guardiola in Munich. That had been his third spell at the club, but last season, general manager Uli Hoeness called him up once more, convincing him to put his retirement on hold to rescue the club after a disastrous start to the 2017-18 campaign under Carlo Ancelotti.
Bayern wanted Heynckes to stay on for another year, but he refused. The 73-year-old instead backed Thomas Tuchel as his replacement at the Allianz Arena, but the former Borussia Dortmund boss had his head turned by the money on offer at Paris Saint-Germain, leaving Bayern reeling in their search for a successor.
Former Bayern midfielder Niko Kovac was the man ultimately chosen to take the reins following an impressive spell in charge of Eintracht Frankfurt, which culminated in a thrilling DFB-Pokal final victory over the Bavarians.
The Croatian started life brightly in Munich, but soon results started to go against him, putting the 47-year-old under immense pressure after just a few months.
Tuesday's 5-1 win over Benfica has given him some breathing space but, despite repeatedly backing Kovac, Hoeness is still believed to be considering wielding the axe.
Last weekend's 3-3 draw with Fortuna Dusseldorf did not sit well with the Bayern chief. Two goals up on the relegation favourites with 15 minutes remaining, Bayern capitulated once again, failing to record a home win for the fourth league game in a row.
"What happened today is unacceptable," he fumed. "We will use the next few days to find out why we play such bad, uninspired football. That's what's haunting us right now."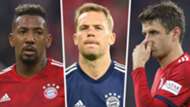 Bayern – and Arjen Robben, in particular – looked more like their old selves against Benfica but the feeling is that Kovac remains only a couple of mad results away from the sack.
Should he be fired, Hoeness cannot call on Heynckes this time. His veteran saviour has no intention of coming out of retirement again. Luckily for Hoeness, there is another veteran manager that would be perfect for the job.
Arsene Wenger ticks all the boxes Bayern Munich need for someone who can come in and steady the ship. Kovac does not have the experience required to earn the respect of some of the Bayern stars, with James Rodriguez reportedly telling him "We are not in Frankfurt here" after a poor performance in October.
Three-time Premier League winner Wenger would have no such issues with Rodriguez, Robben, Franck Ribery, Thomas Muller and the other key players in the Bayern dressing room. The 69-year-old knows how to handle egos and his hands-on approach would ensure that all the players felt valued and respected, even if they were not regular starters.
Since Guardiola, Bayern have espoused a possession-based attacking approach, which is something Wenger utilised to great effect at Arsenal using a variety of formations and styles.
Bayern currently operate a 4-2-3-1 system, which is familiar to the Frenchman and may allow James to take on the Mesut Ozil-style No.10 role he desires, pushing Muller and Serge Gnabry out to the flanks, while allowing them a Total Football-like of freedom to operate across the frontline in support of Robert Lewandowski.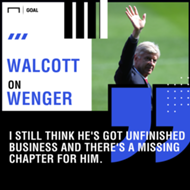 Zinedine Zidane has also been linked, and is available for free like Wenger. However, the former Real boss does not speak German, which is usually a requirement for Bayern, especially following the mid-90s reigns of Giovanni Trapattoni, who is remembered more for his bizarre press conferences rather than the league and cup titles he won.
Wenger insisted just this month that he is not retired, but previously indicated that he would not take another Premier League job.
As a German-speaker, Bayern would be the perfect next job for the man previously known as "Le Professeur" and "The Professor" – it just may need a little translation update to fit in with his new position – not least because he wants to prove himself a winner after a sour end to his remarkable reign at Arsenal.
As former Gunners winger Theo Walcott recently mused, "I still think he's got unfinished business and there's a missing chapter for him."
It could well be written at the Allianz Arena. Certainly, Wenger would embrace the challenge of trying to overhaul a nine-point deficit to Borussia Dortmund at the top of the Bundesliga table, and relish the opportunity to compete in the Champions League with a squad actually capable of winning the tournament.
"I don't feel retired at all but I feel frustrated from [a lack of] competition," he recently told beIN Sports. "I am basically a competitor and what I miss – honestly, there are many things I don't miss at all, like all of the stuff around the game you have to deal with.
"But of course, the day, the competition, the achievement that you can do together, sharing emotions, sharing competitions, ups and downs with others, of course you miss that because I spent my life in that."
Bayern and Wenger would, thus, be an ideal match, two massive names united by a desire to return to greatness.