Liga MX
Cruz Azul wastes chance, Monterrey doesn't forgive Atlas in Liga MX playoffs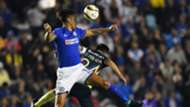 ---
Cruz Azul misses big chance
---

The complexion of the series changed when Mateus Uribe was given his marching orders for planting his boot into Julio "Cata" Dominguez shin. Cruz Azul manger Paco Jemez didn't seem to notice, failing to adapt his tactics to take advantage and ending up with a scoreless draw in the first leg.
After America went down to 10 men, it still was able to win a penalty — a spot kick Oribe Peralta sent right to goalkeeper Jesus Corona — and closed out the half without too much danger. Rather than using the break to pile the pressure on Las Aguilas at the beginning of the second half, Jemez was happy enough with the way his team was set up and waited 25 minutes before taking off one of the three defense-minded midfielders he had in the match.
America went down another man as the 90 minutes elapsed, but La Maquina had five minutes of stoppage time to look for what could be a crucial goal in the series. Instead, they didn't even manage to get a shot off. Not having Uribe or Edson Alvarez in the second leg could hurt America, especially if Miguel Samudio isn't able to recover from the injury that kept him out of the first leg. Even so, in the Estadio Azteca it's unlikely Las Aguilas will have the same struggles in front of goal they did Thursday, especially if they're able to keep a full XI on the field.
"The clean sheet is important," America manager Miguel Herrera said after the match. "Going a man down, ending the match down two and our goalkeeper wasn't even the star. He had two great saves but their goalkeeper stopped a penalty. Defensively, the team performed really well."
This was Cruz Azul's big chance to get an advantage on its Mexico City rival heading into the second leg and perhaps go further than the first round after snapping its six-season absence from the Liguilla. Instead, Jemez's cautious approach may leave Cruz Azul frustrated next week. 
---
Monterrey unforgiving in hot start
---
There is a phrase used often in Spanish to describe teams that always has struck me as harsh in translation. It did seem to apply to Monterrey's first goal and overall performance in a 2-1 victory over Atlas in Thursday's first leg. "Monterrey no perdona." Monterrey doesn't forgive.
The phrase was particularly apt for the first goal, when Javier Salas delivered an attempted clearance right to Aviles Hurtado. The league's top goalscorer casually set up Rogelio Funes Mori, who scored an away goal within five minutes. The lead was two within the half-hour mark, and Monterrey was left to manage the rest of the game after securing a comfortable lead.
#NoTeLoPierdas
G⚽⚽⚽L de Rogelio Funes Mori@atlasfc 0-1 @Rayados 
IDA #4tosDeFinal #Apertura2017 #LIGABancomerMX
⚽ #SienteTuLiga ⚽ #AbrazadosPorElFutbol pic.twitter.com/KZ7pM05iPV

— LIGA Bancomer MX (@LIGABancomerMX) November 24, 2017
Once Atlas settled into the game, it didn't play poorly. Had the referee been more charitable with penalty calls or Monterrey goalkeeper Hugo Gonzalez less attentive during a furious final five minutes of the contest, we'd be talking about a very different situation. Instead, it looks like Christian Tabo's golazo may go to waste.
#NoTeLoPierdas
G⚽⚽⚽L de Christian Tabo@atlasfc 1-2 @Rayados 
IDA #4tosDeFinal #Apertura2017 #LIGABancomerMX
⚽ #SienteTuLiga ⚽ #AbrazadosPorElFutbol pic.twitter.com/Lc36xZZvZx

— LIGA Bancomer MX (@LIGABancomerMX) November 24, 2017
Atlas not only needs to beat Monterrey at the Estadio BBVA Bancomer, where Rayados didn't lose a single match this season and failed to win just once, it needs to beat them by two. Monterrey will have to be very forgiving Sunday night for that to take place.