Manchester United
Credit to Mourinho: Manchester United boss has managed Rashford's progress perfectly
Jose Mourinho often bemoans the common desire to always speak about those players who are not starting games rather than those who are. Such is life when you are Manchester United's manager and your squad is plied full of expensive talent.
Whether it be the likes of Paul Pogba, Romelu Lukaku, Fred and Juan Mata filling the bench at a cost of anything between £37 million and £89.5m at a time, or Alexis Sanchez's near-£500,000 weekly salary being paid out for 20-minute cameos, United have had a stack of notable reserve options of late.
But there is another player about whose position in the squad Mourinho is regularly quizzed, and who has begun to figure far more regularly of late as a consequence of the travails of some of the world's costlier stars.
Marcus Rashford was arguably United's best player as they returned to form in a 4-1 demolition of Fulham on Saturday, with his late goal and two assists fair reward for the dimension he added to the Reds' attack.
This was nothing new, though. The 21-year-old's position at the top of the game is pretty much taken for granted already, such has been his progress in less than three years since his unforgettable debut double against Midtjylland in the Europa League.
It is exactly because he has wowed so regularly that many United fans grow quickly frustrated with Mourinho whenever Rashford doesn't get a start, but, in truth, while there are misgivings over the way in which other players have been treated at Old Trafford, the Portuguese has got things spot on with the England international.
Indeed, the more conservative nature of Mourinho's use of young players has brought Rashford on at close to the perfect pace.
So often in the past a bright young star has fizzled out all too quickly as a result of burn-out, while there have also been countless cases of players being held back for far too long and missing out on valuable experience as part of their growth in the game.
"Marcus Rashford is not Dominic Solanke. He is not Ruben Loftus-Cheek, he is not Dominic Calvert-Lewin," Mourinho said in October when quizzed as to his perceived reluctance to let the attacker loose.
"He is Marcus Rashford, a Manchester United player with an incredible number of appearances and an incredible number of minutes played at the highest level in the best possible competitions."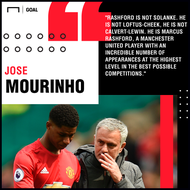 Since that outburst which came complete with statistical analysis, Rashford has gone on one of his longer runs in the first team. Of the last 13 United games, he has started 10 and contributed not just from the wide position in which he has been largely employed since Mourinho arrived at Old Trafford but also replaced the ailing Lukaku as the central striker.
Rashford has been the lone attacker in four of the last nine matches and also partnered Lukaku in a front two in the 2-2 draw at Southampton. And when used from the left of the attacking midfield line against Fulham on Saturday, he was United's most omnipresent force in the final third.
One area of his game which doubtless needs to improve is his finishing, with the erratic nature of some of his efforts remaining an area of concern.
But again, this is the kind of thing a youngster still making his way at the top of the game can iron out over time, and the decision to give him a little run in the side and then take him out of the firing line to address weaknesses is entirely in keeping with what a club like United should be doing.
When they take on Valencia in their dead-rubber Champions League Group H clash in Spain on Wednesday, Rashford is almost certain to play some part.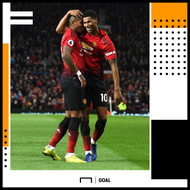 Since first breaking into the United first team he has made an incredible 141 appearances in 161 games, and yet neither has he been over-exposed to the rigours of senior football.
To those who say he isn't playing enough, those 141 call-ups suggest otherwise. In truth, Rashford's development is being handled just right by Mourinho and United.
Just as the likes of Cristiano Ronaldo and Lionel Messi were not over-used in their early days at the top, Rashford is being held back just enough to get the best of both worlds.
United will continue to rest the heavy burdens on those players with the biggest reputations and the most to prove until such time as Rashford hits the very heights to which the whole world expects him to reach at some point in his career.
But right now, at 21 and doing enough to prove his worth to United as a reliable senior squad member, Rashford is just where he needs to be.