Chelsea
Conte dismisses Mourinho's 'defensive team' jibe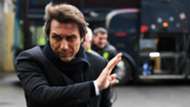 Antonio Conte has refused to respond to Jose Mourinho's suggestion that Chelsea are a defensive team.
The Manchester United manager claimed after his side's victory over Watford that the Blues would not let their position at the top of the Premier League slip because of their conservative style of play and focus on counterattacking and set pieces.
Conte: A point is disappointing
Notably absent from Mourinho's assessment was praise of the forward play that has seen Chelsea score 14 goals more than United so far this season, but Conte would not be drawn into a dispute following his team's 1-1 draw with Burnley.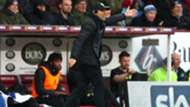 "I don't like to respond to other managers," the Italian told reporters. "I don't like this jokey play. I have a bit of experience about this."
Conte did admit, however, that Chelsea had struggled to break down a Burnley team that has taken fewer points at home than only Tottenham the Blues themselves so far this season.
"The pitch is small and it is better for the team that defends and plays the long ball," Conte explained. "You have less pitch to cover, there is a good atmosphere and I think it is right to have this type of atmosphere.
"For all of these reasons they have taken these points."
The former Juventus coach insisted he is unconcerned by the possibility of Manchester City making up ground on them when they face Bournemouth on Monday night after Arsenal and Liverpool both won on Saturday.
Courtois happy with Burnley draw
"It is normal, there is 13 games before the end," he said. "If someone thinks this league is finished, for me I can tell you: no. There are six teams for me that can win the league. Anything can happen.
"We must continue to work in this way, to try to find a way to win in the same way that we tried today. I am happy for the commitment, the will to try to fight to win. For sure I am pleased with the commitment of my players."