Chelsea
'Complete player' Morata has adapted to the Premier League, says Conte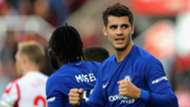 Antonio Conte has heaped further praise on Alvaro Morata after his first hat-trick for Chelsea and he thinks that he has adapted rapidly to life in the Premier League. 
Morata is now the joint-top scorer in the Premier League with six goals alongside Manchester United's Romelu Lukaku and Manchester City's Sergio Aguero after his hat-trick at the Bet 365 Stadium. 
Chelsea ran out 4-0 winners on Saturday afternoon and Conte thinks that Spain international has found the transition to England easy since his £58 million move from Real Madrid in the summer. 
"Alvaro, don't forget, in his previous experience didn't play a lot at Juventus or at Real Madrid," Conte said at the Bet365 Stadium. "Now he has a great chance to show that he is a really good striker. A fantastic striker. He is very young, only 24-years-old.
"I think this is very important for Chelsea. I think now he is involved in our style of football, in our ideas, he is very strong because you could see against Stoke that he made a lot of contact with the defenders. I think he is showing that he is a really complete player.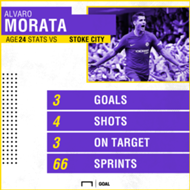 "This league is not easy, especially for the striker. During the game there's a lot of contact, you must be prepared for this type of contact. Also the referee don't waste time a lot. I think it is good for the game. He adapted very well to this league, now he needs to continue to work because he has only just started down this path. 
"I think that today it was a really tough game and, for sure, on Wednesday it will be another tough game. I hope to see the same performance from him and the team.
"For sure, I think that Atletico Madrid fans don't love him because of the rivalry between Real Madrid and Atletico Madrid. I think it will be a really important game and we are looking forward to this type of game."
Morata became the first player to score a hat-trick in the Premier League for Chelsea since Diego Costa in September 2014. Meanwhile, Eden Hazard has been resigned to Chelsea's bench as Conte eases him back from a broken ankle that he sustained in June while away with Belgium. 
Hazard started for Chelsea for the first time since the FA Cup final against Nottingham Forest but he was back on the bench against Stoke. Conte thinks that Hazard is ready to start against Atletico Madrid, but he also warned that he needs to be conifident the player will be ready to compete from the start in the biggest games. 
"Yes, I think Eden is improving a lot," Conte added. "For sure, he is in contention for the game against Atletico Madrid. You know that after a bad injury, after surgery, you need time. I think that he is showing that he is almost ready to play [in these types of games].
"If I make this decision it is because I am comfortable with this decision. You must know that when you are in a great team, there are many players, you must be ready to play, to start. Also be ready to be on the bench and come in and make the difference, like he did today. I don't see any problem [with Hazard on the bench].
"We are managing well the recovery as you know Hazard is very important for us. Now it is important to be sure that he is ready to play for the whole game. We face a tough game against a team [Atletico Madrid] that in the last years, they played always in this competition with good performances.
"They arrived in the final twice and then last season they were beaten by Real Madrid. We have to prepare very well for this type of game. For sure, it will be a really tough game for us but we must be excited because last season we didn't play in this competition.
"Now we are playing in it. We will try our best. The players are fit and it is important to rest and recover for the game on Wednesday. Don't forget we have to play another tough game against Manchester City on Saturday."