Kylian Mbappé
'This is the beauty of life' - Buffon reflects on Mbappe age gap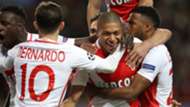 Gianluigi Buffon has been playing professionally for longer than Kylian Mbappe has been alive, and the goalkeeper has expressed his gratitude to still be at the top level ahead of this week's Champions League semi-final. 
Buffon, 39, made his Serie A debut with Parma over three years before the Monaco starlet was born, but he finds it exciting to come up against him so early in his career.
"He was born in 1998, right? I had already been at the 1998 World Cup in France when he was born," Buffon told UEFA's website. "This is the beauty of life, the beauty of living, being able to meet guys who were not even born by the time you had a big part of your career behind you.
'Spurs have nothing on Arsenal'
"I thought about it recently, I was able to connect almost three generations. I played with those born in the 1950s and '60s and I will finish with those born after 2000. It is a huge length of time.
"It's very exciting to know you're playing against the future Lionel Messi, Cristiano Ronaldo and Neymar. Maybe in 10 years, when I'm done, these will be the established champions and I will always have the memory of facing them at the dawn of their careers."
On Wednesday, the France international lines up against Bufon and his Juventus side in their Champions League semi-final first-leg, looking to improve on his record of five goals in the knockout rounds of this year's competition.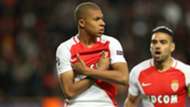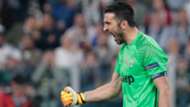 The 18-year-old has scored 24 goals in 38 games this term, becoming the youngest to score 13 in Ligue 1 for 30 years, achieving that feat at a younger age than Thierry Henry himself.
Buffon admits he will be facing a special talent despite his age.
Maradona's girlfriend repeats 'Hand of God'
"Mbappe is an incredible talent and I think he seems like a good boy," he said. "That will help him a lot in his career, which I hope is very bright. If that is the case, he will not have such a strong need to go through against us - he will have many other opportunities in the future to win the Champions League.
"Of course, the characteristics are similar [between he and Henry] - he plays for Monaco early in his career, the very slender and elegant running style. 
"Probably, at this age, he is even better in front of goal than Henry was. He gets a goal in almost every game with his incredible perseverance and when you are so young it is hard to be so composed in front of goal."