Transfers
Bill Hamid leaving D.C. United after season ends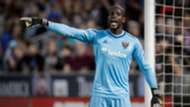 D.C. United goalkeeper Bill Hamid will be leaving the club after the 2017 MLS season.
Hamid's contract with D.C. United is set to expire this winter, and it appears all talks regarding a contract extension with the team have ended as he looks for a new opportunity in Europe.
"I want to push myself and see how far I can go because I know I have the work ethic and the hunger to take myself very far in this game," Hamid told the Washington Post. "I know I can make it to the next level."
Hamid, who will turn 27 next month, said an announcement on his next club could come within the next two days, with Danish side Midtjylland a likely destination, according to the Washington Post.
"I think you are going to find out in the next 48 hours," he said. "I am extremely excited for what's next. It's a big opportunity. It's a big steppingstone to what can come later on in my career."
Hamid is the longest-serving player on D.C. United's roster, having joined the club at the academy level and spending eight seasons with the senior side. His final appearance for the team will come this Sunday at RFK Stadium against the New York Red Bulls.
A former MLS goalkeeper of the year, Hamid holds the D.C. United record for goalkeeping appearances in the regular season with 184 (all starts) and shutouts (49). He has been called up to the U.S. national team several times, making three appearances, including one start.
"I want to see myself continue to grow and continue to get better and be the number one for the national team," Hamid said.