Gareth Bale
Bale surprises young fan with incredible gesture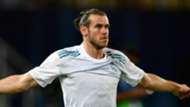 "Are you actually Gareth Bale?"
The Real Madrid superstar is known for his classy interactions with supporters as well as his dazzling wing play, and he solidified the reputation of the former on Tuesday.
Heading out for training with Wales ahead of their World Cup qualifier against Austria, the former most expensive player in the world – he was recently usurped by Neymar, who joined PSG from Barcelona for €222 million – was greeted by a throng of adoring fans.
One in particular seemed remarkably excited to be meeting his hero, and Bale subsequently made his year with a gesture that is sure to live with the supporter forever.
Having posed for a picture, and seen his enthusiasm, Bale offered the fan his training top, and signed it to boot.
The sheer joy on the young boy's face says it all.
"Are you actually @GarethBale11?"
That moment when you can't believe your own eyes! #TogetherStronger #WALAUT pic.twitter.com/WJVaaZNoKp

— Wales (@FAWales) August 29, 2017
Bravo, Gareth, together stronger indeed.