UEFA Champions League
Atletico fan sues UEFA for Champions League final damages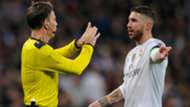 Atletico Madrid fan Jose Antonio Campon has filed a lawsuit against UEFA and Mark Clattenburg, seeking damages because of Clattenburg's decision to allow Sergio Ramos's offside goal to stand.
Real opened the scoring after 15 minutes when Ramos converted past Jan Oblak, but replays showed that the Spain defender was in an offside position when receiving the ball. Atletico equalised to see the game finish 1-1, but Zinedine Zidane's side lifted the trophy on penalties.
Zidane: Great players can fill Bale void
Due to the incorrect decision, Campon has decided to file a lawsuit at Leganes Court, complaining that UEFA "did not use all means to ensure compliance with the rules, and elected people that did not perform their duties to the required standards."
Campon is seeking €1,660 in compensation from European football's governing body: €160 for the price of admission, and €1,500 as compensation for moral damages.
Lawyer Carlos Mendez and his client hope that the lawsuit will also get UEFA to implement video technology which will stop similar incidents happening in future.
"If you go to the cinema and there is no sound, you get your money back. This is the same," Mendez told AS.
"There are norms and they have been violated. That is why we are filing a claim against the employer and the employee as those responsible.
"The ultimate goal is to change this situation and we believe it is common sense. We demand a reasonable amount, [Campon] is not about to become a millionaire with this."
Rooney slammed for Gerrard tweet
Campon insists that he is raising the lawsuit to change officiating, not to make money, saying that the refereeing decision only benefitted Real Madrid.
"We are suing the system in order for the technical means that exist to be applied, they are already in use in other sports," the Atletico supporter told AS.
"These mistakes are always to the detriment of the weak."