Transfers
Arsenal's £50m budget leaves Emery with defensive dilemma in summer window - Keown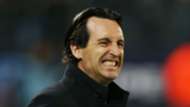 Unai Emery is reported to have only £50 million ($67m) to spend at Arsenal this summer and Martin Keown fears that will not be enough to address defensive issues.
The Gunners have opted to head in a new managerial direction after 22 years under the guidance of Arsene Wenger, but a frugal approach to recruitment appears to remain.
There will be no matching the big-spending of rivals such as Manchester City, Chelsea and Manchester United, with value being sought in a market which has seen price tags soar in the wake of Neymar's record-breaking €222m (£194m/$259m) move to Paris Saint-Germain.
Arsenal will, therefore, be forced to prioritise certain areas for strengthening, with Keown of the opinion that there may not be enough money in the pot to plug a leaky back line.
The former Gunners defender told the Daily Mail on the transfer dilemma facing Emery: "He has to assess whether Arsenal's central defenders are good enough for him.
"Laurent Koscielny is out for six months, Per Mertesacker has retired, Shkodran Mustafi has had a difficult season and he also has two young defenders in Rob Holding and Calum Chambers.
"There will have to be a different message with more emphasis on defence than attack.
"It will be encouraging for Ivan Gazidis that Emery has already identified areas where he can improve the players already at Arsenal.
"With reports of only £50m to spend, a lot of the change is going to have to take place on the training pitch."
Arsenal did snap up Greek centre-half Konstantinos Mavropanos during the January transfer window and have seen encouraging signs from the 20-year-old.
They also have plenty of potential emerging from a famed academy system, but Emery may decide to go in search of experience as he seeks to return the club to the Premier League's top four and Champions League competition.