Arsenal
He's back! Arsenal star Jesus returns to club to step up recovery from knee surgery
Jesus scored five goals for Arsenal before injury
Now able to do light training with a ball
Arsenal hope he could be back before the end of March
WHAT HAPPENED? The Brazilian striker has not featured for the Gunners since before the World Cup due to the injury he sustained while representing his country in Qatar.
He underwent surgery in London before Christmas and has been slowly working his way back to fitness ever since, with the forward now walking without the need for crutches or a knee brace.
THE BIGGER PICTURE: Jesus spent time in England last month working with Arsenal's medical team and was at the Emirates Stadium on January 22 to watch the Gunners beat Manchester United 3-2.
He then flew overseas to continue his rehabilitation, but he has now returned to London to take a major step forward on his road to recovery.
AND WHAT'S MORE: Jesus' first day back at Arsenal's London Colney training centre was on Tuesday, with the 25-year-old now following a carefully mapped out fitness plan alongside the club's medical team with the aim of returning to action at some point next month.
He is now able to do some light ball work on the training pitch, although the key focus of his recovery at the moment is on continuing to strengthen his knee. Arsenal have been reluctant to put an exact timeframe on Jesus' return, but he has always been hopeful of being back on the pitch in time to still play a major role during the final stages of the season.
IN THREE PHOTOS: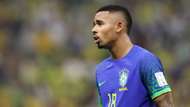 WHAT NEXT FOR ARSENAL? The Gunners host Brentford on Saturday looking to get back on track in the Premier League following their defeat at Everton.