Arsenal
Arsenal icon calls for new Welbeck contract as 'significant ankle injury' is confirmed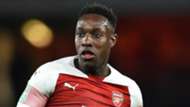 Arsenal have been urged to make a "magnificent gesture" to Danny Welbeck and hand the forward a new contract after confirming that he has suffered a "significant ankle injury".
The England international picked up an unfortunate knock during a Europa League clash with Sporting.
The Gunners have confirmed that the 27-year-old remains in hospital and is facing a lengthy spell on the sidelines.
It remains unclear when he will be seen again, with his current deal at Emirates Stadium also running down.
Arsenal club hero Perry Groves hopes Welbeck will see fresh terms tabled, with the former Manchester United star having offered enough prior to being laid low to suggest that he is deserving of an extended stay in north London.
The Gunners icon told talkSPORT: "I think Arsenal should come out now and say they're going to give him a contract extension.
"Danny Welbeck has suffered a horrendous injury, it looks like a suspected broken ankle and he could be out for the rest of the season, plus his contract is up as well.
"So I think they should come out now and say you're going to give him another year.
"It would just take all the uncertainly away and that would help his rehab on the mental side of it.
"He's wealthy boy now, it's nothing to do with that, but for his mental well-being.
"I think it would be magnificent gesture from my old club if they offered him a new contract."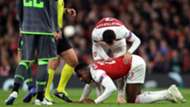 Welbeck joined Arsenal in the summer of 2014.
He has taken in 126 appearances for the club and recorded 32 goals.
Five of those efforts had been delivered this term, with Unai Emery turning to a proven performer to do damage in Carabao Cup and Europa League competition.
While he is about to start a long rehabilitation programme, Arsenal have revealed that Stephan Lichtsteiner and Nacho Monreal will be assessed prior to a Premier League meeting with Wolves on Sunday.
Mohamed Elneny is also edging closer to full fitness, with Laurent Koscielny and Dinos Mavropanos a little further back in their respective recoveries.