Primera División
Graphic content: Argentine footballer suffers horrific injuries after firework reportedly blows up in his face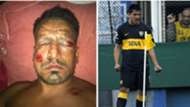 Penarol striker Lucas Viatri sustained horrific injuries after an accident involving a firework.
Lucas Viatri sufrió un accidente con pirotecnia y casi pierde la vista. pic.twitter.com/jVNpLqzOVx

— Roberto Moar (@Roberto_Moar) December 31, 2017
The forward, who has played for Argentina three times, was seemingly attempting a Christmas Day stunt, when he was almost blinded by the pyrotechnics.
Viatri, the former Boca Juniors forward, sustained serious wounds to his cheeks, eyes - though he has retained his sight - and face, and his club are now unsure when he will return.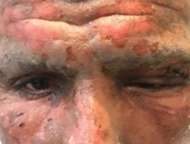 "Lucas Viatri suffered an accident with pyrotechnics that affected both eyes," an official statement from Penarol read.
"He is in Buenos Aires, where he is resting and examinations are being carried out to establish the relevant treatment."
Argentine news website Infobae claims Viatri was hit directly in the face by a firework known as a 'torta', with Uruguayan journalist Roberto Moar having shared graphic images of the player's face on social media.