United States
Arena on dual-nationals: I'm all for any players that are eligible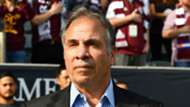 New U.S. men's national team head coach Bruce Arena has insisted he will welcome all players who are eligible to play for the United States. 
Arena named USA national team manager
Arena was responding to a comment he made in 2013, which has resurfaced now that he is back at the helm of the U.S. national team. 
Speaking to ESPN The Magazine, the then-LA Galaxy coach remarked: "Players on the national team should be — and this is my own feeling — they should be Americans. If they're all born in other countries, I don't think we can say we are making progress."
In a conference call with reporters on Tuesday, Arena — who was named head coach for a second time following U.S. Soccer's dismissal of Jurgen Klinsmann on Monday — said he would welcome any and all players who were eligible for the USA. 
"If i made those comments, I certainly don't believe that that's my attitude," Arena said. "As a starting point, probably one of my most favorite players in my eight years as national team coach was (Dutch-born) Earnie Stewart.
"I believe that anyone who has a passport in the United States is eligible to play for our national team. I embrace all players that are eligible to play and I just want to make sure their heart is in the right place and when they put that U.S. jersey on that they're playing for that crest that's on their shirt."
Some have interpreted Arena's previous comments as more of an indictment on the U.S. player development system than an attack on players born outside of the United States. U.S. Soccer president Sunil Gulati echoed that sentiment on the conference call. 
"Some of the discussions that Bruce and I have had in the past is if we have players that are primarily developed abroad, then while they are still absolutely eligible in every possible way to play for the national team, they don't reflect in the same way on the development programs that we're going through in the U.S.," Gulati said. 
Seven of the 26 players on Klinsmann's most-recent squad were born outside of the United States. Whether developed at home or abroad, Arena will need the help of any and all eligible players after Klinsmann got the U.S. off to an 0-2 start in the Hexagonal.
"I have a great passion for this national team and I expect the same out of our players," Arena said. "So I'm all for any players that are eligible to play for us."