United States
American youngsters impress to give U.S. fans some hope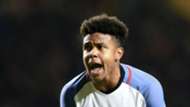 Weston McKennie raced through Portugal's defense for a goal that had to spark some hope in the depressed hearts of U.S. fans who had spent the past month in shock over the U.S. national team missing out on the World Cup.
Then goalkeeper Ethan Horvath let a cross go through his arms and legs and into the net, reminding us all that breaking in a new generation is going to have its ups and downs. That was the main lesson offered up in Tuesday's 1-1 draw between the United States and Portugal.
If first impressions are anything to go by, then McKennie is worth the hype. The Schalke midfielder didn't look like a player making his USMNT debut, nor did he look like a 19-year-old. He looked like a fearless player with the skill to potentially grow into a cornerstone of the program.
A glimpse into the future @WMckennie becomes 3rd youngest #USMNT player to score in his first cap! pic.twitter.com/If9MSLv47R

— U.S. Soccer (@ussoccer) November 14, 2017
Horvath wasn't making his debut on Tuesday, but for many watching him with the U.S. for the first time, it was a forgettable first impression. The 22-year-old goalkeeper looked shaky and showed the poor form of a player who recently lost his starting job. Horvath recovered a bit as the first half went on, making some big plays to keep Portugal from scoring another, but it wasn't enough to erase the feeling that he didn't look like the heir apparent to the goalkeeping throne made available by the end of the Tim Howard era.
The match started with Portugal controlling the early play, and the U.S. working hard to maintain its defensive shape. For a group that hadn't really been together before, the Americans defended well, bolstered by the energy brought by youngsters eager to impress. Several of them did, from Tyler Adams, who came within an acrobatic save of scoring the winner, to Matt Miazga, who showed poise in central defense that the U.S. could have used in September and October.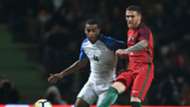 The most impressive part of the U.S. performance was the effort and tenacity the team showed, which is as much a criticism of the display we saw from the U.S. team that lost to Trinidad & Tobago as it is praise for Tuesday's U.S. showing. We saw a team that was hungry, a team that didn't care that it was a friendly, or that of a team being led by a caretaker coach who will be long gone by the time the U.S. is playing important matches again. We saw fearless youngsters who showed the same swagger Christian Pulisic has carried since breaking into the national team. We saw players with several years to improve, and bundles of potential to build on.
The full U.S. team won't be together again until the spring, which leaves plenty of time for Tuesday's participants to keep building their cases for continued roles, and plenty of time for U.S. Soccer to resolve its own issues, from the U.S. Soccer presidential election in February to the eventual hiring of a new full-time coach. Only when a president and coach are in place can we really start to get a sense of the direction the USMNT will be heading in.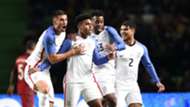 The wait for those big decisions will be made easier by Tuesday's match. There were enough good individual performances to leave U.S. fans feeling like there is reason to be hopeful for the future. It may have been a Portugal B team, but it was still a match against players from top European leagues. If Portugal had routed the Americans, U.S. fans would have headed into winter feeling like the program was in free fall. Now, with an admirable showing against a worthy opponent, U.S. fans can look to the future with a sense of hope.
It may not be much, but after October's heartbreaking failure, it will have to do.