Transfers
Alonso to sign new Chelsea contract 'in coming days'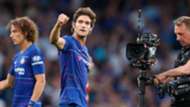 Chelsea defender Marcos Alonso says he will extend his contract at the club in the "coming days".
The Spanish left-back has impressed at Stamford Bridge since joining the club in 2016, and has been ever-present in the Premier League under Maurizio Sarri at the start of the 2018-19 season.
His current deal does not expire until 2021, but such has been his importance to the cause, he has revealed that the Blues have offered him an extension that he intends to sign.
"I am very calm and very happy at Chelsea, and the club must also be happy with me because, although I still have two years left on my contract, they have offered me an extension," he told AS.
"We are talking about it and the talks to renew are already advanced. If everything goes well, I think I will renew before the end of this month - in the coming days."
Alonso insists he is not aware of how long he will be signing for, saying that his father takes care of such matters, but he is looking forward to extending his stay.
"My father takes care of that as he is the one who leads the negotiations," he added. "I am 27 years old, I still have two more years and I am going to extend my contract.
"What concerns me is to play as well as possible to win matches and titles with Chelsea and with the national team. I'm calm with my contract."
Alonso has played under two Italian managers at Chelsea, Antonio Conte and Sarri, and their systems differ slightly, with the former preferring to deploy three defenders, and the new boss utilising four.
The defender insists, however, that he is comfortable in either system.
"I feel comfortable with both systems. I also had the three-at-the-back system in Italy, and it went very well for me," he added.
"I liked playing in lanes, especially because of the offensive opportunities you have in that position. But I also like to play with the current Sarri system, which is also very similar to the way Luis Enrique plays. 
"In modern football the position, the placement of the team and occupying spaces is important. Luis Enrique insists on this, as does my coach at Chelsea. 
"For my part I am comfortable and adapted to this football. My natural position is left-back in a four-man defence, but you have to be ready to help the team in the way the coach wants."