A-League
Aloisi 'confident' of extending Roar stay
Goal Australia Chief Editor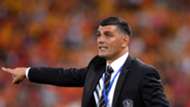 John Aloisi is planning to stay as coach of Brisbane Roar but wants assurances the club is more stable off the field before he commits.
Aloisi's two pre-seasons at the Queensland-based club have been marred by ownership uncertainty, delayed player and staff payments and various other hurdles in terms of player recruitment and preparing for an A-League campaign.
With the South Australian's contract expiring at the end of the 2016-17 season there had been some speculation he would be lured home to take over at Adelaide United should Guillermo Amor leave the Reds.
But after Roar managing director Mark Kingsman told The Courier-Mail this week that Aloisi "will be with our club next year", the 40-year-old coach confirmed on Thursday that staying in Brisbane is his preferred option.
"I've always mentioned I want to stay at Brisbane Roar. Do I want to go through what we've been through the last two pre-seasons? No. They're the discussions we're having," Aloisi told reporters.
"I want to make sure the club is going to head in the right direction because I want to be a part of that, because it's unfair for everyone involved if that's going to be the case.
"I don't want that to happen, for the players, for whoever works within the club and the fans. I'm confident I'll be staying here and I want to stay."
Roar will take on Melbourne Victory away from home on Friday night having lost their past two games, while their hosts have won five in a row.
Newcastle Jets edged out Brisbane 3-2 last week, while leaders Sydney FC triumphed 2-0 in Round 13.
"The results of the past two games haven't gone our way but in terms of did we deserve to lose both those games? No," Aloisi said.
"So we expect the boys to respond down in Melbourne and this is what Brisbane Roar love - no-one thinking we can go down there and win, backs against the wall and we want to go down there and put in a good performance."