Arsenal
Alexis praises playing style of 'classic striker' Lacazette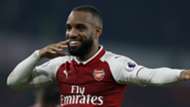 Alexis Sanchez is impressed with the playing style of Arsenal's club-record signing Alexandre Lacazette. 
The French forward has netted four times in the Premier League since joining the club this summer in a £46.5 million deal. 
Lacazette 10/11 Anytime goalscorer v Everton
While the Gunners are not off to the best start despite adding the former Lyon striker, with the club sitting sixth in the league through eight matches, the Chilean believes the move to sign the 26-year-old has been a good one. 
"When he has a goalscoring chance, he is a good finisher," the Chile forward told Arsenal Player. "He's a classic striker.
"He was a successful player in France, and the two of us work well together. He's an excellent player.
"I believe we have [a good understanding]. We haven't played that many games together but when we have, I like how he plays.
"He finds space and understands the game well. He is very talented."
Despite the slow start to the season, the Gunners could climb as high as fourth with a win over Everton at Goodison park on Sunday.