Manchester United
Accusations of Man Utd players not caring disappoint Carrick
Michael Carrick insists it is "definitely not the case" that Manchester United's slow start to 2018-19 is down to players not caring about results.
With Jose Mourinho having seen pressure piled on his shoulders during an inconsistent opening to the current campaign, it has been suggested that some of those at his disposal have given up.
Amid the talk of change, accusations that some senior stars want a new face in the dugout have provided an unwelcome backdrop to a testing run which has the Red Devils sat eighth in the Premier League.
Carrick is disappointed to have seen such talk surface, with Mourinho's right-hand man adamant that everybody at Old Trafford continues to give their all for the good of the collective cause.
He told Sky Sports when asked about the effort being put in by an underperforming squad: "As a player at United the expectation is there, the scrutiny is there and nowadays every little move you make people jump on it and judge it.
"The lads are human beings who make mistakes. It's too easy to throw out a player is not trying. It's definitely not the case."
United certainly appeared to have the stomach for a fight when heading into the international break on the back of a dramatic 3-2 victory over Newcastle which saw them battle back from two goals down.
That result helped to silence some of Mourinho's critics and Carrick, who is filling a first coaching post since hanging up his boots, is delighted to still be in a position to learn from the Portuguese.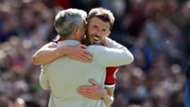 He said of the man at the Old Trafford helm: "He's been fantastic with me.
"The situation I'm in at the moment, my first job after being a player so there's a huge element of learning and trying to soak up as much as I can to improve myself. But at the same time I'm there to do a job and there's a responsibility there.
"He's been great with me. He's given me plenty of things to do and at the same time he's trying to help me develop. I couldn't have asked any more of him."
Mourinho is still trying to repair the damage done at United by his predecessors, with the Red Devils having struggled to rebuild in the wake of Sir Alex Ferguson's retirement in 2013.
David Moyes was the first to fail in that task, with Carrick admitting that the Scot inherited an almost impossible job.
The ex-England international said: "It was going to be tough for anyone. It was always going to be tough because the club was so set in its ways and so stable with Sir Alex and David Gill being chief executive for so many years.
"With them leaving together, there was always going to be change in some way and it was just how it was dealt with. The whole thing just got unsettled and unfortunately that season it just didn't work for us.
"As players, I'm the first one to blame myself. Before you blame anyone else you've got to look at yourself. It's just frustrating and you think all that work you've put in for so long to establish that and then it can be affected so quickly."
United's class of 2018 are set to return to domestic action on Saturday with a trip to Chelsea, before then taking in a Champions League reunion with Cristiano Ronaldo and his Juventus side.