Tiemoué Bakayoko
'AC Milan will see the real Bakayoko' – Chelsea flop vows to prove himself in Italy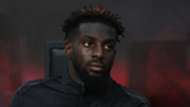 Tiemoue Bakayoko has backed himself to come good at AC Milan, insisting the player who excelled at Monaco will shine through "with time".
The Frenchman has come under fire just months into his loan to the Italian club after struggling during his one season at Chelsea.
An abysmal end to the season saw the midfielder loaned to Milan, and his fortunes haven't taken a turn as criticism soon followed him to Serie A following a string of poor performances.
His own manager, Gennaro Gattuso, said the midifelder has to improve, and Bakayoko has backed himself to do just that. 
"I've been very well received," Bakayoko said at a press conference ahead of AC Milan's Europa League match against Real Betis.
"It's a good group and my integration has gone very well, I'm trying to adapt the way I play. The best of me has yet to come and it'd be better to play a bit more, but I'm already seeing improvements.
"A lot of things have changed, it's a new league and a new style of football but I'm trying to give my best.
"With time you'll see the Bakayoko you talk about."
Bakayoko broke onto the scene while with Monaco, jumping into focus alongside stars like Kylian Mbappe, Bernardo Silva, Fabinho, Thomas Lemar and Benjamin Mendy as the club won Ligue 1 in 2016-17.
The success earned him a £40 million ($51.7m) move to Chelsea, where his fortunes soon turned following a number of poor performances.
He's made five league appearances and two Europa League appearances with the Italian club to open his loan stint, including a seven-minute run-out that produced a yellow card in AC Milan's late loss to Inter last weekend.
"It's never nice to lose in the last minute, we're disappointed but defeat is part of life. Now we're focused on tomorrow's match," he said.
"It'll be a difficult game, Betis are a good team. It'll be important to win and try to reach nine points for qualification."
Milan have defeated Olympiacos and Dudelange to open the club's Europa League campaign.