A-League
A-League clubs demand more power from FFA
Goal Australia Chief Editor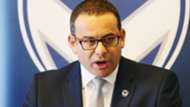 A-League clubs are ready to fight for more money and a greater say in the competition's future, with Melbourne Victory chairman Anthony Di Pietro outlining his wishlist on Friday
Speaking at his club's Victory in Business lunch, Di Pietro outlined his and the clubs' three critical issues for the A-League's future. 
With his key officials from Adelaide United, Melbourne City, Perth Glory, Sydney FC and Western Sydney Wanderers in attendance, this was clearly a joint statement for Football Federation Australia's ears. 
FFA CEO David Gallop was also a guest. 
Di Pietro called for FFA to consult the clubs on expansion, favour them when reforming their voting structure and give them a fairer slice of the pie. 
Is FFA missing an expansion opportunity?
"The time for engagement, decision and change is now upon us," he said.
"Decisions to be made right now are going to affect the future of football in Australia for years to come."
The A-League is set to expand to 12 teams in the 2018-19 season and Di Pietro called for him and his fellow chairmen to be consulted when deciding on the yet-to-be determined expansion criteria.
FFA to consult broadcasters on expansion
"At this stage, we haven't had any visibility on the strategic thinking," he said. What we would like to see is a higher level of consultation with all of the key stakeholders to work through the criteria. At the core of any expansion, we must be confident that any new licences don't compromise the mainstream integrity and the marketability of the competition."
At the core of the clubs' frustration with FFA is the famous slogan from the American Revolution - no taxation without representation.
According to some club insiders, FFA effectively taxes around a third of A-League revenue each season but the clubs have just one collective vote when positions on the governing body's board come up.
FFA committed to reform says Lowy
FFA has been given a deadline of March 31 by FIFA to reform its constitution and expand the voting members of its congress that decides who is on the board. 
The FFA Congress currently includes just 10 voting positions - the nine state and territory federations plus one vote representing all A-League clubs.
"While the A-League earns the lion's share of revenue, it has almost the least amount of say," Di Pietro said.
Cahill: New broadcast deal to boost grassroots
Finally, Di Pietro called for "all revenue raised by the A-League [to be] retained and invested to grow the A-League" rather than using the competition to subsidise other areas of FFA's work.
The Victory chairman's speech was a clear demand from the A-League clubs that FFA includes them in all major upcoming decisions for the competition.
It also strengthened the sense that Australian football is in a state of flux, with big issues such as expansion, promotion and relegation, and an independent A-League likely to remain on the agenda for the foreseeable future.