United States
23 tickets to France: Projecting the USWNT's World Cup roster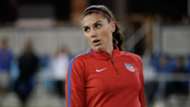 Practically speaking, 2017 was an "off-year" for the U.S. women's national team — a non-stop string of friendlies with no major competition in sight. But that description doesn't do justice to a year colored by questions and storylines aplenty.
Amid the experimentation, the U.S. fell short in a pair of invitationals on home soil — finishing in last place as France won the SheBelieves Cup before seeing Australia triumph at the Tournament of Nations. As U.S. coach Jill Ellis toyed with various formations and personnel while expanding the player pool, those setbacks came with the benefit of the doubt.
"I've been really pleased that this window of time has enabled us to examine everything about this team and how to build on the strengths of our players," Ellis said. "Occasionally you learn more from failing, but this is the process we decided to go through. We knew it would be challenging, but it's certainly paid off so far and we still have a long way to go."
With a 3-1 win over Canada on Sunday, the U.S. closed the book on its 2017 campaign. When the Americans gather in January for their annual winter camp, they'll do so with competitive matches on the horizon. World Cup qualifying is on the docket in 2018, allowing the buildup to the 2019 tournament in France to be begin in earnest.
That in mind, here is Goal's projection of the 23 players Ellis will bring to France as the U.S. looks to defend its World Cup title:
---
GOALKEEPERS
---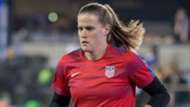 MAKE THE CUT: Alyssa Naeher, Ashlyn Harris, Jane Campbell
OTHER POSSIBILITIES: Adrianna Franch, Abby Smith, Katelyn Rowland, Haley Kopmeyer, Casey Murphy
What began as a competition between two veterans to fill Hope Solo's shoes has turned into more of a one-horse race than expected, with Naeher earning 13 starts in 2017 to Harris' three.
Although Naeher has been steady enough, she hasn't been lights out either — opening the door for the 32-year-old Harris or a younger option to potentially grab the No. 1 role.
Campbell has been Ellis' third-stringer of choice during an impressive rookie campaign with the Houston Dash, and she may yet stake a claim to the starting spot. NWSL standouts Franch and Smith have been in the mix as well, while Rowland and Murphy are enticing prospects to keep an eye on.
---
DEFENDERS
---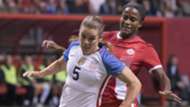 MAKE THE CUT: Becky Sauerbrunn, Abby Dahlkemper, Kelley O'Hara, Casey Short, Emily Sonnett, Taylor Smith, Sofia Huerta
OTHER POSSIBILITIES: Meghan Klingenberg, Ali Krieger, Chioma Ubogagu, Megan Oyster, Jaelene Hinkle, Emily Menges, Arin Gilliland, Kaleigh Riehl, Karina Rodriguez
As a U.S. co-captain, and arguably the world's finest defender, Sauerbrunn is a lock. So is O'Hara, a longtime utility player who has settled in as Ellis' first-choice right back while showing the versatility to play on the left.
This group has undergone a significant overhaul beyond those two, and perhaps no player raised her stock more in 2017 than Dahlkemper. The 24-year-old center back only had three caps when she earned her debut start against Norway in June, but that match marked the first of 10 consecutive starts to close out the year.
A speedy and versatile left back, Short also established herself as a regular in 2017. And Smith's confident performances as an attack-minded right back in the Tournament of Nations earned her a spot in the rotation.
The fringes of this group are where it gets messy. Chicago Red Stars winger Huerta showed glimpses of potential as a converted fullback after filing a one-time switch from Mexico to the U.S. Ellis is considering Ubogagu as fullback depth in a similar switch, while NWSL stalwarts Hinkle and Gilliland are more traditional options there.
What about Klingenberg and Krieger? The onetime mainstays were in and out of the picture this year as the U.S. looked at younger fullbacks, but it's worth noting Ellis leaned on veteran depth when rounding out her 2015 World Cup squad. So don't count out that duo — especially Klingenberg — just yet.
Although the U.S. can get away with only bringing three natural center backs to France, since Short and Julie Ertz also can play the position, finding that backup for Sauerbrunn and Dahlkemper has proved tricky. Sonnett didn't receive any caps in 2017 but did earn a November recall after a strong season with the Portland Thorns, and the likes of Oyster, Menges and Riehl could force their way into the discussion as well.
---
CENTRAL MIDFIELDERS
---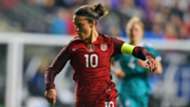 MAKE THE CUT: Julie Ertz, Samantha Mewis, Carli Lloyd, Andi Sullivan, Morgan Brian, Lindsey Horan, Rose Lavelle
OTHER POSSIBILITIES: Allie Long, Jaelin Howell, Brianna Pinto, McCall Zerboni, Danielle Colaprico, Christina Gibbons, Tierna Davidson, Emily Ogle
We're only seven games into Ertz's run in defensive midfield but her range, tenacity and nose for goal make her look like the answer there for years to come. Mewis feels entrenched in a box-to-box role in front of Ertz, having started all 16 matches this year.
Then there's Lloyd, who will be nearly 37 by the time the World Cup rolls around. Yes, the two-time world player of the year netted just two goals this year after scoring 18 in 2015 and 17 in 2016. But whether she's a starter or spark off the bench, she'll be in France.
Back on the field after tearing her ACL last fall, Stanford's Sullivan has plenty of promise in a deep midfield slot. While injuries limited the technically proficient Brian to two starts for the U.S. this year, she's a safe bet if healthy.
Horan's soccer IQ and physicality make her a near-automatic selection, considering she can play up top or any central midfield role. And it's hard to imagine Ellis looking past Lavelle's ability to make something out of nothing, with the 22-year-old also an option out wide.
Long seems like a victim of unfortunate timing, bursting onto the scene too late for 2015 but perhaps fading from the picture before making it to 2019. The 30-year-old Zerboni was an unlikely addition to the player pool, having picked up her first cap last month, but she wouldn't have earned that call-up if Ellis thought she was too old to break through.
Looking younger, Colaprico and the versatile Gibbons should be in the mix after strong NWSL seasons, while teenagers Howell, Pinto and Davidson can be counted among the program's most prized prospects.
---
WINGERS/FORWARDS
---
MAKE THE CUT: Alex Morgan, Tobin Heath, Megan Rapinoe, Crystal Dunn, Mallory Pugh, Christen Press
OTHER POSSIBILITIES: Lynn Williams, Sydney Leroux, Ashley Hatch, Margaret Purce, Kealia Ohai, Amy Rodriguez, Sophia Smith, Shea Groom, Ashley Sanchez
Morgan bounced back from a slow start to 2017 to solidify her place as Ellis' go-to striker, scoring seven goals in her past seven appearances. A lingering back injury sidelined Heath for most of the year, but when healthy she brings unrivaled creativity to the table.
Just when it seemed like Rapinoe may never return to her pre-torn ACL form, the 32-year-old came on strong to end the year and re-establish herself as the first choice on the left flank. That development will surely give Ellis a selection headache out wide, with 19-year-old Pugh offering maturity beyond her years and a sky-high ceiling.
While Dunn and Press present different qualities, both players are proven scorers who can play any position across the front line in Ellis' 4-3-3. That leaves the speedy Williams on the outside looking in, though that could change if she polishes the technical side of her game.
Leroux is an intriguing case. Back in action after a year-plus absence for the birth of her first child, the 27-year-old posted decent numbers with FC Kansas City and briefly returned to the U.S. setup. If Leroux continues her progression on the club level, she could force her way back into contention for minutes.
Ohai and Rodriguez suffered major knee injuries last year but could be in the conversation as they return to full strength. Hatch, the NWSL Rookie of the Year, and Purce are younger options who could be poised for an international breakthrough. Boasting teenage talents such as Smith and Sanchez, the U.S. youth system has its fair share of attacking options to monitor as well.