Pulisic, Dembele & Borussia Dortmund's money-making talent factory
Last Updated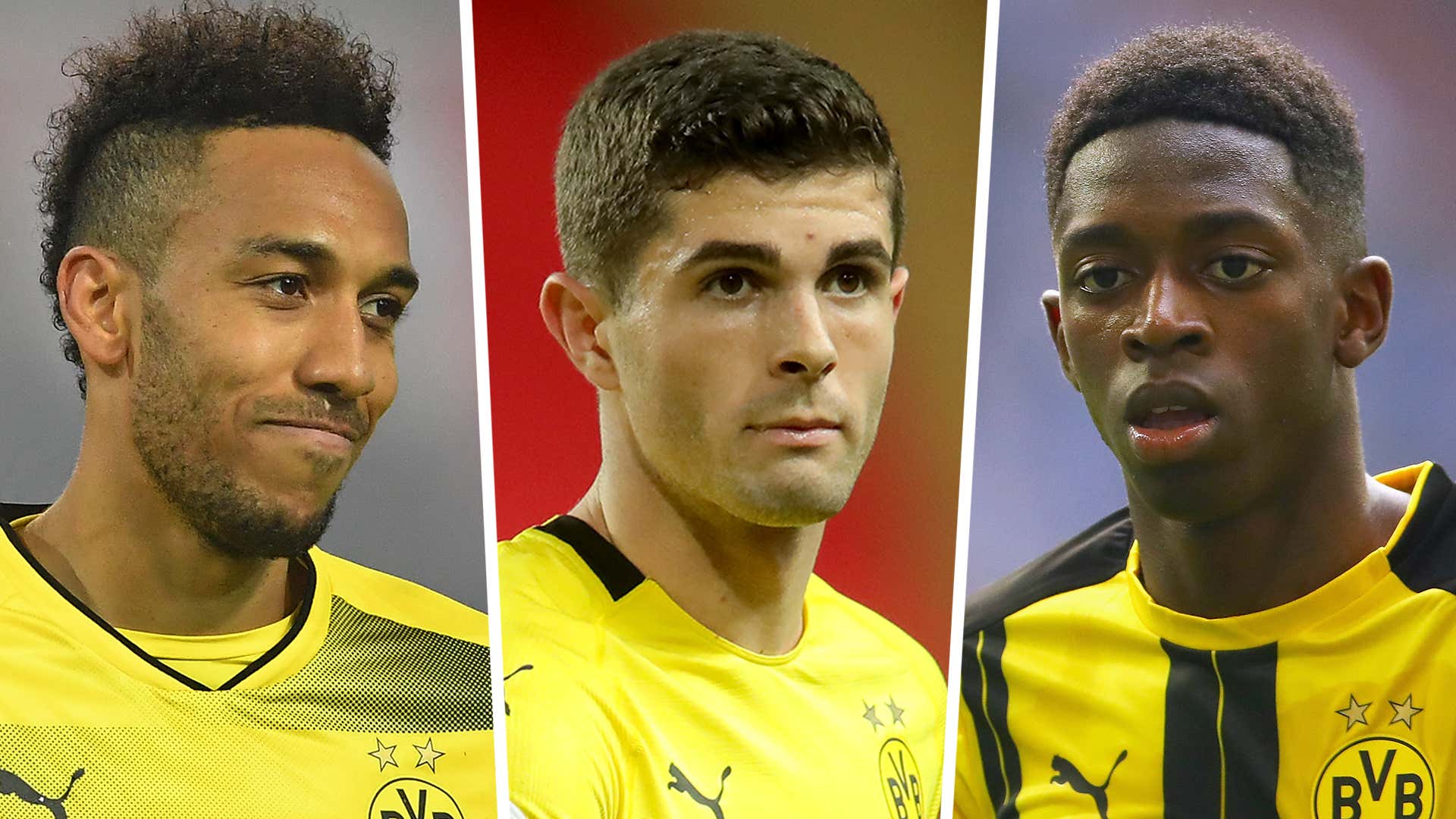 Getty/Goal
Getty

Europe's money-making talent factory

Gotze: €37m
Ginter: €17m
Kagawa: €18.8m
Dembele: €105m
Hummels: €35m
Gundogan: €22.1m
Aubameyang: €62m
Mkhitaryan: €41.8m
Sokratis: €15.9m
Pulisic: €64.2m
----------
TOTAL: €418.8m (£376.8m/$480.8m)

Although several other players have moved on since the end of the 2012-13 season, it is striking that Dortmund have made approximately €418.8m (£378.5m / $483.1m) from the sale of just the 10 players listed above, underlining just why Signal Iduna Park is regarded as Europe's money-making talent factor.

Christian Pulisic - €64m profit

Now on loan at Dortmund until the end of the season as part of the deal that saw him agree to move to Chelsea this summer for €64.2m (£58m/$74m), Pulisic is the club's latest and arguably greatest transfer success story.

The versatile American attacker was picked up by BVB at the tender age of 16, and quickly forced his way into the first teams of both his club and his country.

In signing for Chelsea, Pulisic became Dortmund's second-biggest sale of all time, behind only Dembele.

Getty Images

Sokratis Papastathopoulos - €10.5m profit

Sokratis Papastathopoulos took a winding road to Dortmund, coming to prominence at Genoa and failing with AC Milan before a strong spell in the Bundesliga with Werder Bremen convinced BVB to part with €9.5m (£8.6m/$11m) for the Greek's services.

It proved another inspired investment. The defender starred for five years at Signal Iduna Park, forming a formidable partnership with Hummels to cement his reputation as a top-class centre-half.

When Arsenal moved for the Greece international in the summer of 2018, the Gunners paid BVB approximately €15.9m (£14.4m/$18.3m), meaning more money for BVB's coffers.

Henrikh Mkhitaryan - €14.5m profit

The Armenian playmaker Henrikh Mkhitaryan was signed to replace the Bayern Munich-bound Gotze, joining from Shakhtar Donetsk in 2013 for a then-club record €27.5m (£24.9m/$31.7m).

Three sterling seasons in the Bundesliga earned Mkhitaryan a €41.8m (£37.8m/$48.1m) move to Manchester United, and BVB another healthy profit on their initial investment.

Pierre-Emerick Aubameyang - €51m profit

Pierre-Emerick Aubameyang was given the toughest of tasks when he arrived at Dortmund in 2013.

Having played alongside Robert Lewandowski in his debut season at Signal Iduna Park, the Pole's defection to Bayern Munich meant the onus fell on the Gabon international to carry the BVB attack almost all on his own.

Remarkably, he pulled it off, with a whopping 141 goals in 213 games marking Aubameyang out as one of Europe's elite strikers.

He eventually left for the Premier League last January, joining Arsenal for €62m (£56m/$71.3m), which represented a massive return on the estimated €13m (£11.8m/$15m) that brought him to BVB from St. Etienne in 2013.

Getty Images

Ilkay Gundogan - €14.5m profit

Germany midfielder Ilkay Gundogan ran the Dortmund midfield for five seasons between 2011 and 2016, having joined in a cut-price €5.5m (£5m/$6.3m) deal from Nurnberg when he was just 20.

When Manchester City came calling in 2016, Dortmund pocketed €22.1m (£20m/$25.5m), four times their initial investment.

Getty

Mats Hummels - €31m profit

In the case of Mats Hummels, Bayern's loss turned out to be infinite gain for their Bundesliga rivals. The defender failed to impress as a youngster for Die Roten and was shipped off to Dortmund in 2008 for an eventual fee of just €4m (£3.6m/$4.6m).

The rest, as they say, is history. Hummels was the cornerstone of the BVB defence in two consecutive league wins, also helping them to the Champions League final in 2012-13.

He also got his hands on the World Cup trophy before Bayern came back for their former cast-off but they were forced to pay €35m (£31.7m/$40.4m) to bring him back to Bavaria.

Ousmane Dembele - €137m profit

Ousmane Dembele's talents were clear to see even while he was still at Rennes. But it was Dortmund who shrewdly signed the teenager for a mere €8m (£7.2m/$9.2m) in 2016.

The Frenchman enjoyed a wonderful debut season in the Bundesliga, which attracted the attention of Barcelona, who were desperate to sign a new winger following the shock departure of Neymar for Paris Saint-Germain in the summer of 2017.

So, while his exit from Signal Iduna Park was rather acrimonious, Dembele still netted BVB a colossal profit, with Barca agreeing to pay an initial €105m (£95m/$121m) for his services, with the potential for a further €40m (£36.2m/$45.1m) in add-ons.

Getty Images

Shinji Kagawa - €16.7m (before returning)

Shinji Kagawa was plucked from his native Japan for a mere €350,000 (£317,000/$404,000) in 2010, with Dortmund taking advantage of a clause that allowed him to leave Cerezo Osaka on a cut-price deal should a European club come knocking.

The attacking midfielder quickly became a fan favourite at Signal Iduna Park, scoring at a rate of just under a goal every two games and helping BVB to the Bundesliga title in each of his two seasons in Germany.

When Manchester United came calling in 2012 with a bid of £17m ($21.7m), Dortmund were sorry to see him leave but happy with their substantial market gain.

Just two years later, moreover, BVB were able to re-sign Kagawa for just €8m (£7.2m/$9.2m), after a disappointing spell at Old Trafford.

Getty Images

Matthias Ginter - €7m profit

Another testament to Dortmund's enviable eye for talent, Matthias Ginter was just 20 when he was snapped up for €10m (£9m/$11.5m) from Freiburg prior to the 2014-15 season.

Ginter marshalled the BVB defence for three years, playing more than 100 games before he was allowed to leave for Borussia Monchengladbach.

Dortmund are believed to have cleared a healthy profit of €7m (£6.3m/$8.1m) on the centre-back.

Mario Gotze - €37m profit (before returning)

A product of the club's youth system, Mario Gotze cost the club nothing and quickly became a teenage sensation.

In 2013, though, the attacking midfielder decided to depart after Bayern Munich triggered the €37 million (£31.5m/$42.7m) release clause in his contract, much to the disgust of then BVB manager Jurgen Klopp.

Gotze scored the winning goal for Germany in the World Cup final in Brazil but, through a combination of form and fitness issues, he never settled at the Allianz Arena and returned to Signal Iduna Park for €22m (£19.9m/$25.4m) in 2016, admitting that he regretted ever leaving.