Kepa, Alisson & the most expensive goalkeepers ever
Last Updated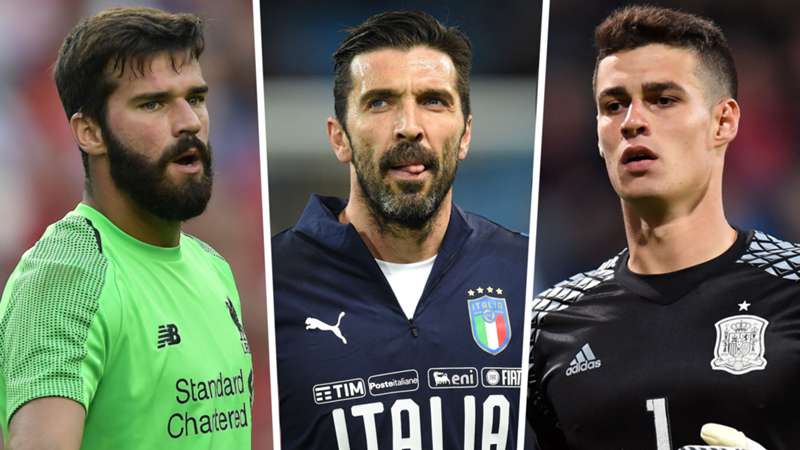 Getty

Asmir Begovic - £10m

Asmir Begovic joined Chelsea in 2015 after a five-year stint in goal for Stoke City. Thibaut Courtois, however, proved too hard to dislodge, and the Bosnian was shipped out to Bournemouth at the start of last season.

Getty Images

Petr Cech - £10m

After 11 brilliant years at Stamford Bridge, Petr Cech was snapped up by Chelsea's London rivals Arsenal in 2015, who made him one of the world's most expensive goalkeepers in the process.

Getty

Ivan Pelizzoli - £10.2m

Ivan Pelizzoli was just 20 when Roma broke the bank for the promising Atalanta player. He never quite fulfilled that early potential, though, and has meandered through Italy's lower leagues for the vast majority of his career.

Getty Images

Mattia Perin - £10.5m

Former Genoa No.1 Mattia Perin has huge shoes to fill in Turin, after being signed by Juventus this summer following the departure of Buffon for Paris Saint-Germain.

Getty

Jasper Cillessen - £11.1m

Netherlands international Jasper Cillessen has featured only intermittently for Barcelona since being drafted in to serve as the understudy for Marc-Andre ter Stegen in 2016.

Getty

Angelo Peruzzi - £12.5m

The man affectionately known as 'Tyson' and 'The Boar' for his imposing physique, Angelo Peruzzi starred for both Juventus and Lazio during a long, distinguished career that included two huge transfer deals.

Peruzzi set Lazio back £12.5m upon joining after a single season with Inter, and he repaid the Romans with seven years of sterling service.

Getty

Jan Oblak - £12.5m

Jan Oblak now seems as much a part of the Atletico Madrid furniture as long-time coach Diego Simeone. Indeed, it is easy to forget that he was a relative unknown back in 2014 when he was snapped up from Benfica to replace returning loanee Courtois.

Getty Images

Angelo Peruzzi - £13.3m

Peruzzi's second appearance on this list came in 1999, when Inter spent heavily on the Juve star. His time at San Siro lasted just a single season, however, before he was shipped off to Lazio at a slight loss.

Getty

Sebastien Frey - £14.7m

Another man who appears on this list more than once. After failing to make his mark at Inter and seeing Francesco Toldo arrive at San Siro, Frey left for Parma, where he filled the void left by Buffon.

Getty Images

Claudio Bravo - £15.4m

Claudio Bravo helped muscle out Joe Hart at Man City when he was drafted in as one of Pep Guardiola's first signings. A series of high-profile mistakes, however, meant that the Chile international failed to establish himself at the Etihad Stadium, and he was relegated permanently to the bench in 2017 with the arrival of Ederson.

Getty

Francesco Toldo - £17m

After starring in a Fiorentina team that included the likes of Gabriel Batistuta and Rui Costa, Francesco Toldo was eventually sold to Inter in 2001 when the Viola's money woes became too serious to ignore. He spent a total of eight years in Milan, helping the side take five straight Scudetti from 2005 to 2010.

Getty Images

David de Gea - £18.9m

Manchester United's decision in 2011 to spend almost £20m on Atletico Madrid youngster David de Gea looked suspect at first after a series of high-profile errors. But the Spain international soon adjusted to the Premier League and is now considered one of the most important players in the club's squad, winning the Red Devils' Player of the Year award for the last three seasons.

Getty Images

Bernd Leno - £19.2m

Bernd Leno is the man entrusted with the No. 1 jersey by new Arsenal manager Unai Emery, who made the former Bayer Leverkusen ace one of his top priorities just weeks after settling into the top job at the Emirates.

Getty Images

Manuel Neuer - £21m

The arrival in Bavaria of Schalke's star goalkeeper coincided with the start of Bayern's overwhelming domestic dominance. In seven seasons at the giants, Manuel Neuer has laid his hands on the Bundesliga title no less than six times.

Getty Images

Jordan Pickford - £25m

England's new hero Jordan Pickford became the nation's most expensive shot-stopper last summer, when he swapped Sunderland for Everton.

Getty Images

Thibaut Courtois - £31m

Swapping Chelsea for Real Madrid gives the Belgium goalkeeper a place just shy of Buffon in the overall list.

Getty Images

Gianluigi Buffon - £32.6m

The Parma prodigy cost Juventus a small fortune back in 2001 when he moved across Italy. It proved, however, to be one of the shrewdest deals of the 21st century, as Buffon led the Old Lady to an unprecedented era of dominance despite the infamy and relegation caused by the Calciopoli scandal early on in his 17-year spell in Turin.

ANTHONY DEVLIN /AFP/Getty Images

Ederson - £35m

Manchester City made Ederson the second-most expensive goalkeeper of all time when they signed the Brazilian as a replacement for Bravo in the summer of 2017. The move paid instant dividends, though, as Ederson starred in a watertight City team that romped to the Premier League title.

Getty

Alisson - £65m

Liverpool shattered the previous record for goalkeeper transfers when they shelled out for Alisson, though that mark did not last a month. The Brazilian joins from Roma with a sterling reputation and at 25, should have room to grow in the coming years.

Getty Images

Kepa - £72m

Less than a month after Liverpool shelled out a record fee for Alisson, Chelsea smashed it by paying Kepa's release clause with Athletic Club in order to secure the replacement for Thibaut Courtois. The Spain international has made a name for himself as the Basque club's goalkeeper the last two seasons, and he'll have plenty to live up as he looks to step into the role for the Blues.