Transfers
The case for the defence: Klopp's out-of-character spending spree just what Liverpool needed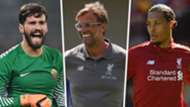 His reputation is as an attack-minded manager, a man known for gegenpressing and 'heavy metal football'. You score two and we'll score three.
Jurgen Klopp, though, has always known the value of a solid defence.
It is closing on three years since the German with a smile as wide as the Mersey Tunnel took over as Liverpool boss. His first press conference at Anfield was a memorable one, a huge media event with several standout lines. 
Klopp labelled himself 'The Normal One', of course, he spoke of carrying around history in a rucksack, and of "restarting" a club which had sadly run off course under his predecessor.
But buried in among those first words came another insight into the German's mindset, one which is as pertinent now as it was then.
"All the world is talking about ball possession," Klopp told reporters back in October 2015. "But we have to have a plan for when we have the ball and when we don't.
"You cannot just think about offensive things – you have to feel stability. When you feel this, you are free for creativity and that is how football works."
Liverpool have certainly been "free for creativity" since then, of course, but their search for "stability" has been a lengthy one. One Klopp hopes could be completed very soon.
In January, the Reds broke the world transfer fee record for a defender , shelling out £75million ($98m) to sign Virgil van Dijk from Southampton. 
Six-and-a-half months later, they look set to do the same for a goalkeeper, agreeing a £66m ($86m) fee with Roma for the Brazilian international Alisson Becker . 
They have also, it should be noted, paid around £90m ($117m) to sign two midfielders, in Naby Keita and Fabinho, that bring significant defensive ability to the table.
Significant moves, all of them. Moves that Klopp believes will take Liverpool towards their main targets – Premier League success and European glory.
Suddenly, the Reds have a side that looks like it can go after the big prizes. Suddenly, they have a squad littered with high-quality, high-price footballers. Suddenly, should Alisson sign, they have their strongest spine in years.
Rival fans, of course, may point to another Klopp quote. One from July 2016, when Manchester United were about to pay a world-record fee for Paul Pogba.
"Other clubs can go out and spend more money and collect top players, yes," he said. "But if you bring one player in for £100m or whatever, and he gets injured, then it all goes up the chimney.
"Do I have to do it differently to that? Actually, I want to do it differently. I would even do it differently if I could spend that money. The day that this is football, I'm not in a job anymore."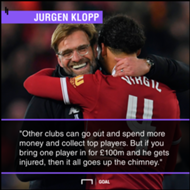 Awkward maybe – Jose Mourinho certainly remembered those comments and has used them against Klopp since – but perhaps the truth is that Liverpool are realising that while 'doing it differently' can take you so far, to bridge that final, vital gap requires more. 
It requires money. That, unfortunately, IS football.
In their 2014 book 'The Numbers Game', authors Chris Anderson and David Sally used data to examine and challenge a series of common myths surrounding their game. One of their key findings was that it was statistically more valuable to prevent a goal than to score one. 
Goalkeepers and defensive players, they argued, had long been undervalued in the transfer market, with clubs often saving the big fees (and the big wages) for their headline-grabbing forwards.
The signing of Van Dijk and the proposed deal for Alisson suggest that things are changing. Other clubs – Manchester City, for example – have shown a willingness to spend big on defenders, while N'Golo Kante would command a huge fee were he to leave Chelsea this summer.
Another of the arguments presented in The Numbers Game, and which certainly applies to the Alisson move, is that football is a weak-link sport, a game defined more by the quality of a team's worst player than that of its best.
Liverpool fans understand that better than most. Flash back to May, and the Champions League final in Kiev. Or to the opening day of the last Premier League campaign at Watford if you prefer. In fact, try the 2016 Europa League final. 
What did Liverpool have, and what did they need to add if they were to bridge the gap to their competitors?
A new left-back maybe? A dominant, vocal centre-back for sure. A bit of presence and dynamism in midfield? How about some depth on the bench, an attacker of pedigree who can dip in and out of the team when needed, allowing the club's brilliant front players to rest and rotate?
Oh, and a goalkeeper. Obviously, a goalkeeper.
Bit-by-bit over the last 12 months, Liverpool have sought to solve each and every one of those problems.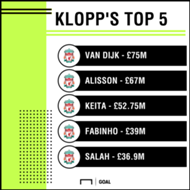 They upgraded Alberto Moreno to Andy Robertson, they spent big on Van Dijk, they bought legs and quality in Alex Oxlade-Chamberlain, Fabinho and Keita. Xherdan Shaqiri, at £13m , is as good a 'rotation player' as they could hope for.
And now, if things go to plan, they have their final piece. Alisson, at 25, is a goalkeeper for the now and the future. He's the Brazilian No.1, a player with top-level domestic and European experience under his belt.
Crucially, he's a problem-solver; Liverpool's weak link was exposed in Kiev, they simply had to try and fix it this summer. 
They could not go into the season with Loris Karius as No.1, an issue heightened by the German's unfortunate pre-season mishaps, Simon Mignolet lost Klopp's faith some time ago and suggestions from inside Anfield that Danny Ward was ready for a promotion always seemed fanciful. It needed surgery. Expensive surgery.
Like Van Dijk, Alisson was 'the one' as far as Klopp and his recruitment team – led by director of football Michael Edwards – were concerned. Like Van Dijk, Liverpool are ready to spend big to get him.
And like Van Dijk, Alisson will arrive under enormous pressure should the deal be completed. With big money come big expectations. There will be plenty of people to convince, inside and outside Liverpool.
Van Dijk did it quickly – who talks about the Dutchman's price tag now? – and the likes of Robertson, Oxlade-Chamberlain and Mohamed Salah have shown that Liverpool get more right than wrong in the transfer market these days. 
The Reds' business under Klopp has, on the whole, been excellent. Enough to get them a trophy? That's the next challenge. 
For now, though, it's hard to argue with what Liverpool are doing. They're removing the doubts, eliminating the weaknesses, one by one.
Premier League contenders? They must be.