Mamelodi Sundowns
Barcelona manager Ernesto Valverde explains decision to play Lionel Messi late against Sundowns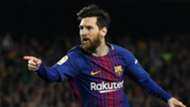 FC Barcelona manager Ernesto Valverde has explained why Lionel Messi only featured in the final 20 minutes of their Nelson Mandela Centenary Cup win over Mamelodi Sundowns on Wednesday. 

Valverde confirmed that Messi didn't train with the team on Tuesday, but said it was nothing major as the left-footed player is still struggling with flu. 

However, the technical team felt it was important for Messi to participate in the match, probably because of the huge support the 30-year-old enjoys in South Africa. 

"We are all struggling with flu, but it's nothing major. I think it was important for Messi to participate towards the end of the game. He's a player that has been playing a lot for us, but it's nothing serious," Valverde told the media. 

Having eased past the Brazilians 3-1 in front of a packed FNB Stadium, Valverde though doesn't think that his team had it easy against the South African champions. 

"It was a good game. They surprised us a little bit because they were very fast. The speed of the team was very high," he said. 

"So, they were enthusiastic and I think that they had several opportunities. I think everyone saw a good game," added the Barcelona manager.